Last year Eltrino's startup DiamanteDesk was recognized as one of the best 18 startups out of 497 applications, at the Startupbootcamp Commerce Selection Days in Amsterdam. Even though DiamanteDesk wasn't selected into the top 10 teams to take part in the accelerator program, we've gained experience and useful contacts. Sometimes you got to lose to win again. DiamanteDesk as a startup wasn't chosen for the Startupbootcamp Accelerator, but we have something more valuable - our talent and the team.
Our primary focus is web development for eCommerce, and it's our domain where we do the best job and get significant results. DiamanteDesk is a quite good help-desk solution, but the quite good never wins, only the best wins. Thus Ernst Hoestra, the Managing Director at Startupbootcamp made a bet on our team and decided to support Eltrino to gain a piece of Dutch eCommerce market as a web development agency. We have already several clients from the Netherlands, and we are happy with our cooperation. And what we like that all Dutch merchants are open, direct and candid, that works for business the best.
Dutch eCommerce market looks very attractive for Magento focused agencies like Eltrino. We've done market research and got some surprising results. Did you know that Magento is the leading eCommerce platform in the Netherlands? There are 14 048 live web stores on Magento in the Netherlands. It's even more than in Germany, and just US and UK beat it (Source: BuiltWith)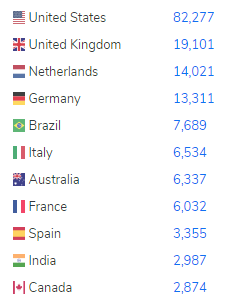 So this year Eltrino will be incorporated in the Netherlands. This opportunity opened to us thanks to Ernst Hoestra, his contribution and Startupbootcamp's support. We appreciate their help and look forward to the fruitful cooperation.