This year as in the 2017 the Gartner has acknowledged Magento as a leader in Digital Commerce. And Magento shows in 2018 even better result than in 2017. Let's compare Quadrants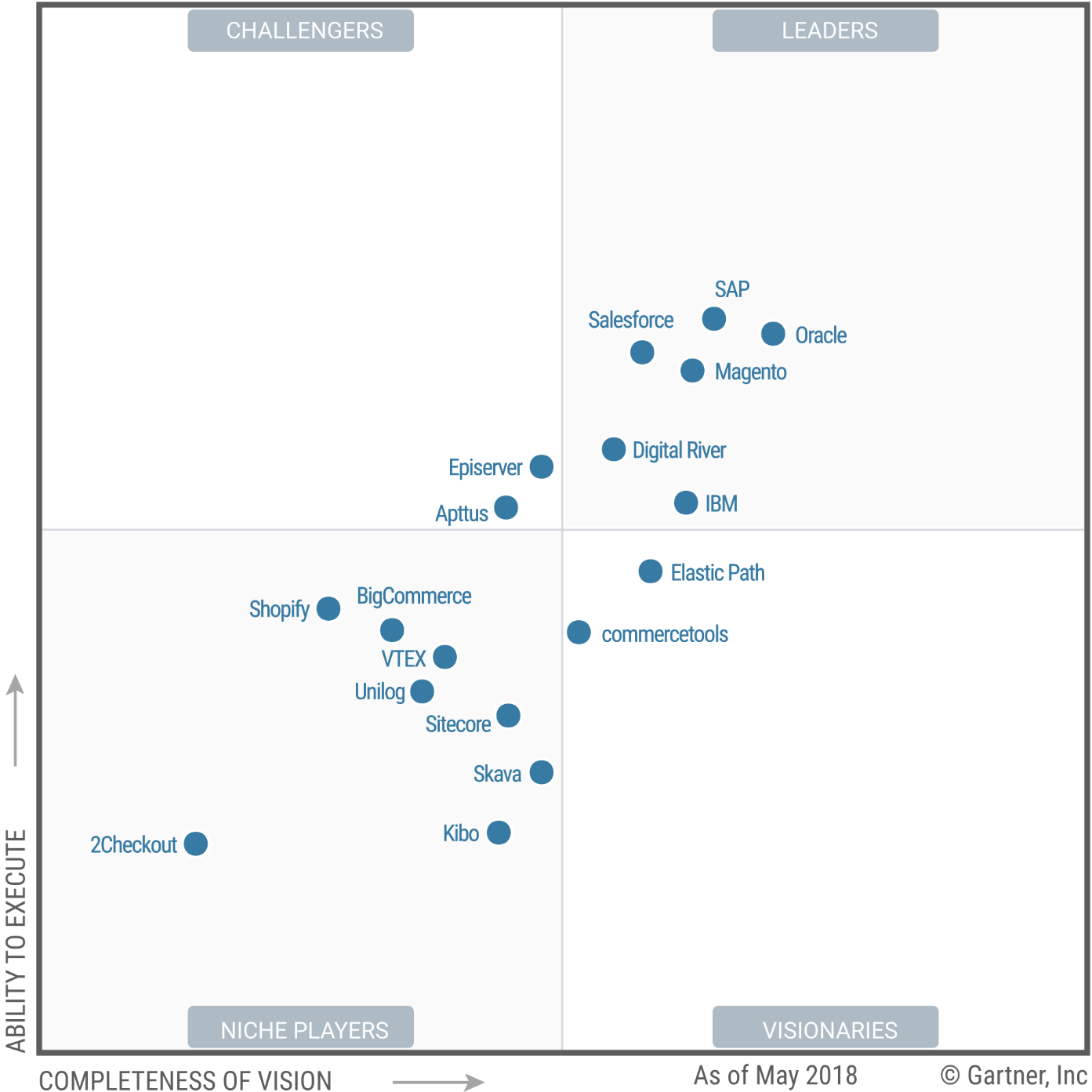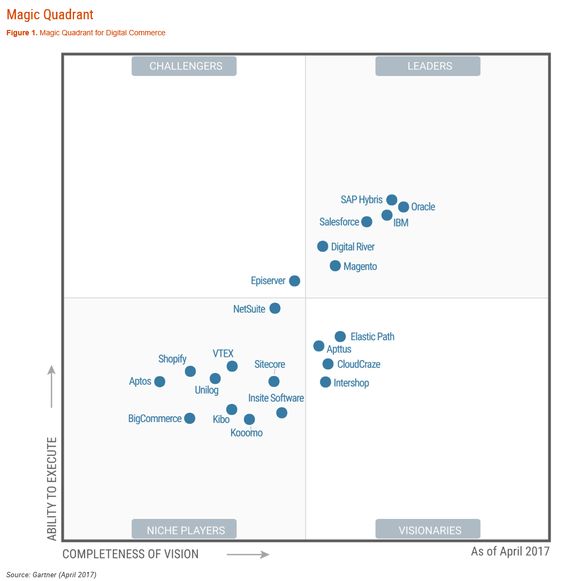 Source: Gartner (June 2018) and Gartner (April 2017) Magento Commerce comparing to IBM, salesforce and Digital River has improved its ability to execute and vision completeness.
Magento is a Leader based on evaluation of its Magento Commerce platform (formerly known as Magento Enterprise Edition). Magento Commerce has a single-tenant SaaS, AWS cloud-hosted managed service offering and it can be deployed on-premises or on alternative public or private clouds. Also Magento offers Magento Business Intelligence (BI), Magento Order Management (eCommerce inventory software for easy order management), Magento Shipping (enables you to provide superior customer service while streamlining your operations), Magento Social (drives traffic to your online store through social channels). And of course a free Commerce version, Magento Open Source (formerly known as Magento Community Edition).
Magento supports both B2B and B2C customers in a wide range of industries, with GMV typically below $250 million.
Magento Strengths
Growth and service provider network: Magento has experienced significant growth since becoming an independent company in 2015 (it was formerly owned by eBay), enabling development of a robust service provider network for solution integration and product development.
Complete solution: Magento has several offerings in addition to the base commerce platform, including solutions for OM, data and analytics, social selling, B2B commerce, and CPQ. Its recently released WCM functionality is available today as an extension, to be integrated to the core product in 2018.
Marketplace connectivity: A marketplace module is integrated to Magento Commerce, enabling direct integration to Amazon and with built-in intelligent pricing. The module is available for any Magento customer on request and is scheduled to be generally available in the code base in 2018. Integration to eBay and Walmart/Jet is planned for later in 2018. Prospects that also need a solution for selling in online marketplaces will find the module beneficial.