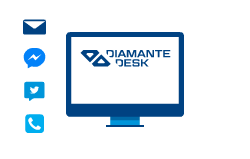 Helpdesk software DiamanteDesk
Just US businesses lose $62B USD every year because of poor customer support. Besides, customer expectations are continuously increasing.
To keep up with this businesses need to react immediately and provide highly personalized services.
And there are a lot of help-desk solutions that can help to deal with customer support as a pro. But if your business processes differ from ordinary, you need to customize the system and with the most of available applications it will cost you a small fortune or it's simply impossible.
Our solution is Open Source, so it's fully customizable and flexible. You can play with its modules like with Lego bricks and implement your own business logic.
DiamanteDesk was launched with a desire to help people to provide customer support without limits, don't obey restrictions, play by your own rules.