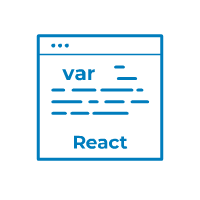 Trending Frontend Frameworks
There is a wealth of frontend frameworks, with different features and opportunities. All have pros and cons, strengths and weaknesses, depending on the needs of a specific project. But we narrowed down to just a few that we prefer to make a deal with:
React
This JavaScript library for building user interfaces has taken the cake as the most popular frontend framework in 2017. It is component-based, provides declarative views that allow debugging easier and makes the code more predictable. Developers can simply add new features in React without rewriting existing code.
Node.js
Node.JS is an open-source project introduced in 2009 by Joyent. This cross-platform JavaScript runtime environment helps in the real-time network application development.
Vue.js
Another soaring framework is Vue.js. From the early beginning, it has been used by Chinese giants like as Alibaba, Xiaomi and Sina Weibo. It is appealing due to its small size (Vue.js weighs only 18kb after gzipping) and ability to develop large-scale templates. Vue.js allows creating flexible components which can be reused in other projects.
AngularJS
AngularJS is a JavaScript framework by Google that was designed specifically for creating dynamic web applications. It has a modular architecture and allows extending HTML vocabulary for the application. AngularJS is fully extensible and works well with other libraries.
Express.js
Express is the heavy favorite for people who need to develop simple web services and APIs rather than web portals or high-loaded calculating backends. There are a number of features that are provided with the help of plugins.
Bootstrap
Bootstrap is one of the most popular HTML, CSS, JS frontend frameworks that facilitates the creation of the frontend of responsive, mobile first projects, websites and web applications. The speed of development is the main purpose. It significantly accelerates project launching as it avoids tedious development from scratch.
If it's crucial to use any other platform for your project we are open to discussing.