This year Adobe (Magento) was named as a Leader in the 2019 Magic Quadrant for Digital Commerce, again. Let's compare Quadrants and Magento positions dynamics in 2019, 2018, and 2017 years.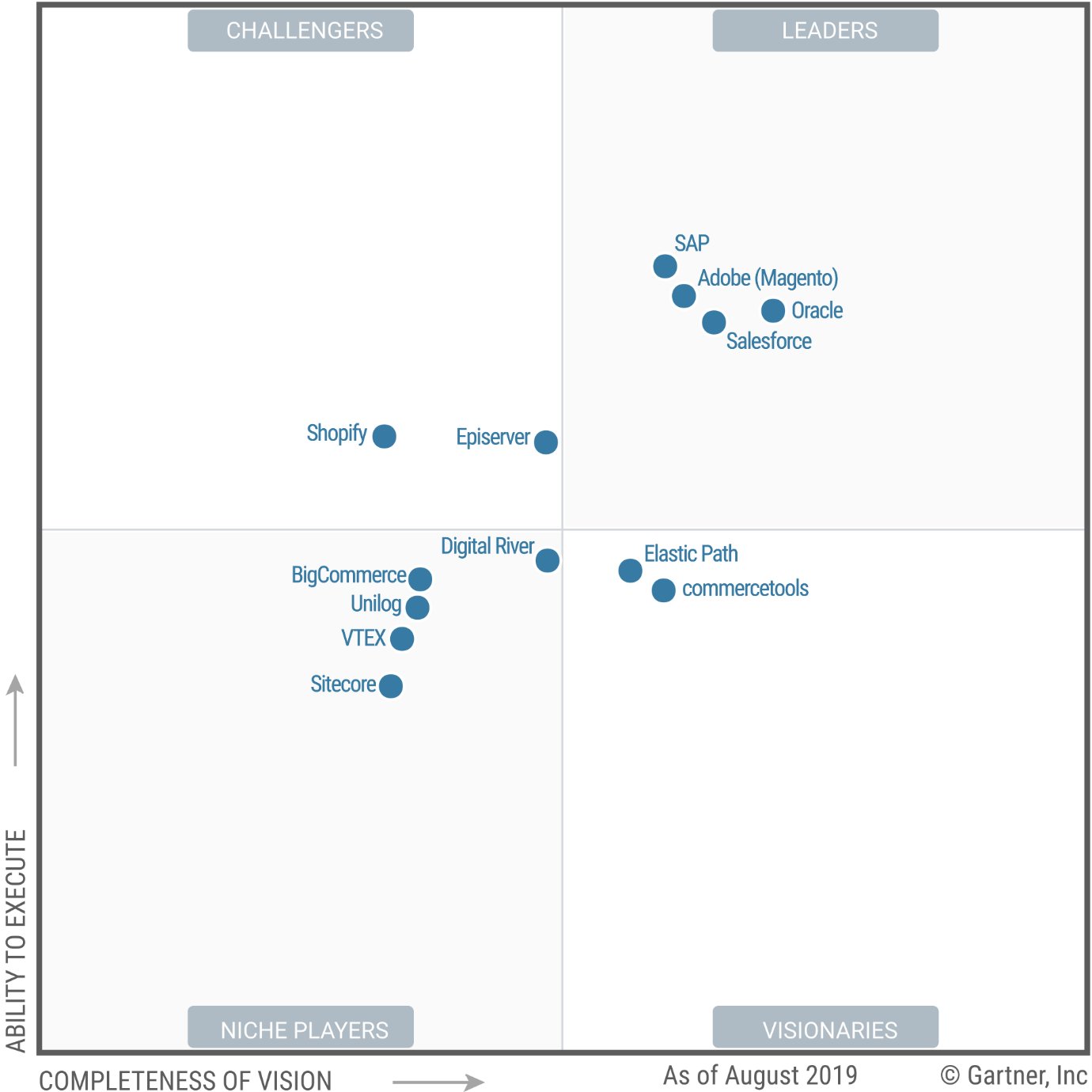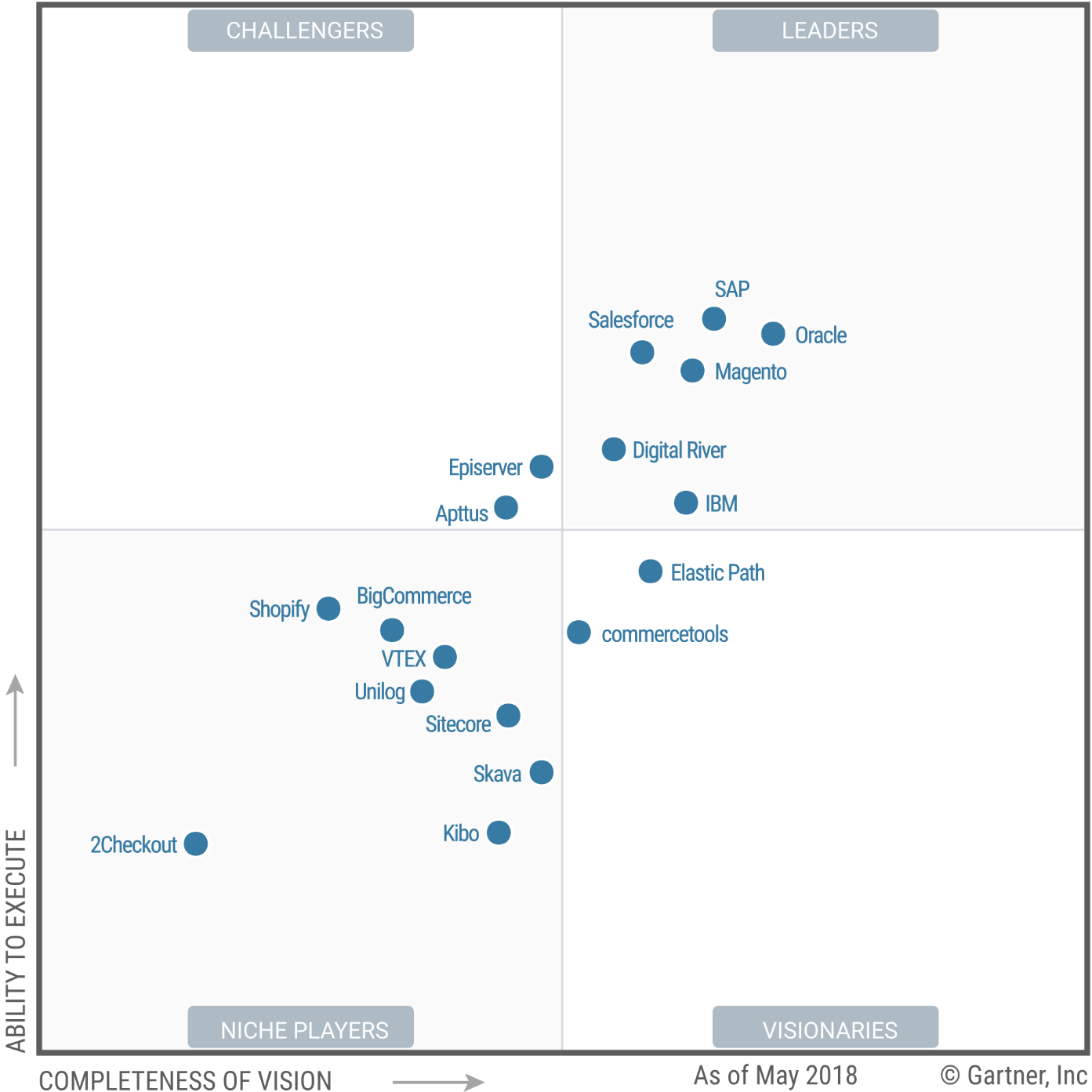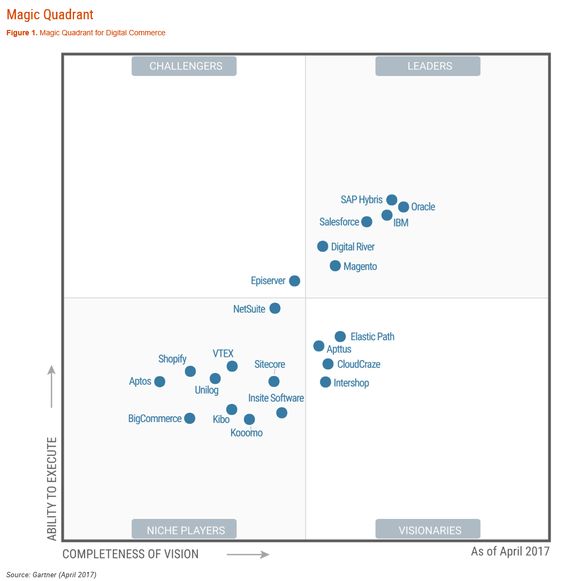 Source: Gartner (August 2019), Gartner (June 2018) and Gartner (April 2017) Magento is a heavy favorite, it sustainably improving its position in the Magic Quadrant for Digital Commerce.
Magento Commerce offers a single-tenant SaaS on AWS as well as software that can be deployed on-premises or hosted on private or public cloud. Magento Commerce includes Magento Order Management (OM), Magento Shipping and Magento Business Intelligence (BI) as multitenant SaaS offerings that complement Magento Commerce. Magento Commerce is targeted at the SMB market. For enterprise customers, Adobe Commerce Cloud — based on Magento's commerce technology — is offered as part of the Adobe Experience Cloud suite of capabilities, which includes Adobe Experience Manager (AEM), Adobe Analytics, Adobe Target and a services-based commerce integration framework (CIF). Organizations can choose to deploy Adobe Commerce Cloud or Magento Commerce in a managed services model. The vendor supports B2C and B2B customers in a wide range of industries, as well as B2B2C. Before its acquisition by Adobe, Magento Commerce targeted customers with GMV below $250 million. Most of its customers are in North America and Europe, with a smaller portion in Asia and Latin America.
Strengths
Complete commerce solution: Magento Commerce includes a native WCM module (Page Builder) in the core commerce platform, and provides additional solutions for order management, shipping, and data and analytics.

Application and partner ecosystem: Magento Marketplace is a robust application exchange market that includes over 4,800 extensions to a large number of third-party commerce applications directly from the Magento admin UI, including WCM/DXP, PIM, search (product and site), CPQ, social media, reviews and ratings, marketing hub, and analytics. Magento has a large global ecosystem of technology partners, agencies, developers and SIs.

Adobe acquisition: Magento Commerce was integrated with AEM prior to the acquisition. Now they are more tightly integrated, enterprises have access to a more comprehensive suite through direct integrations with Adobe solutions for marketing and analytics — filling a previous product gap in personalization and AI capabilities. Adobe's global enterprise sales organization and footprint within larger clients has resulted in an increase in enterprise deals for Magento, which has historically served mostly SMBs.