Is SEO dead? The data from 2016's E-Commerce Benchmarks Study denies such a loud statement! More than two thirds of eCommerce website traffic is generated by Google with 43% coming from Google Organic and 26% coming from Google CPC.
To boost your eCommerce business using SEO, you need to know and follow certain rules related to web store optimization and maybe even involve bots for necessary signals. According to recent forecasts, companies will spend $65B on SEO in 2016, and much of this budget will be simply wasted and won't do any good to target sources. Keeping that in mind, it's crucial to form the strategies aimed at avoiding such foreseeable failure in distributing company resources.
Although Henry Ford claimed that half of his advertising budget was wasted - he couldn't figure out which half of marketing attempts was useless!
Continuous observations show that organic search result and click-through rate optimization have never been as important as now. Andrey Lipattsev, Senior Search Quality Strategist from Google, highlighted links, content and RankBrain as a the top 3 ranking signals in Google's search algorithm.
Overall Ranking Factors
Let's face that in the world of ever-changing trends, approaches and concepts, it is literally impossible to become a know-it-all SEO expert due to one simple reason: search algorithms change dynamically. The best approach for the activities that cannot be mastered in a snap is just always be able to find the right answers and never get tired of looking for them.
After 2014 when Google released the update for its local search algorithm, known as 'Pigeon', which was aimed at providing a better visibility of local listings in Google search results, local SEO became vital for eCommerce. And it doesn't matter whether you run a small business or huge transcontinental corporation, you need to keep an eye on local SEO trends.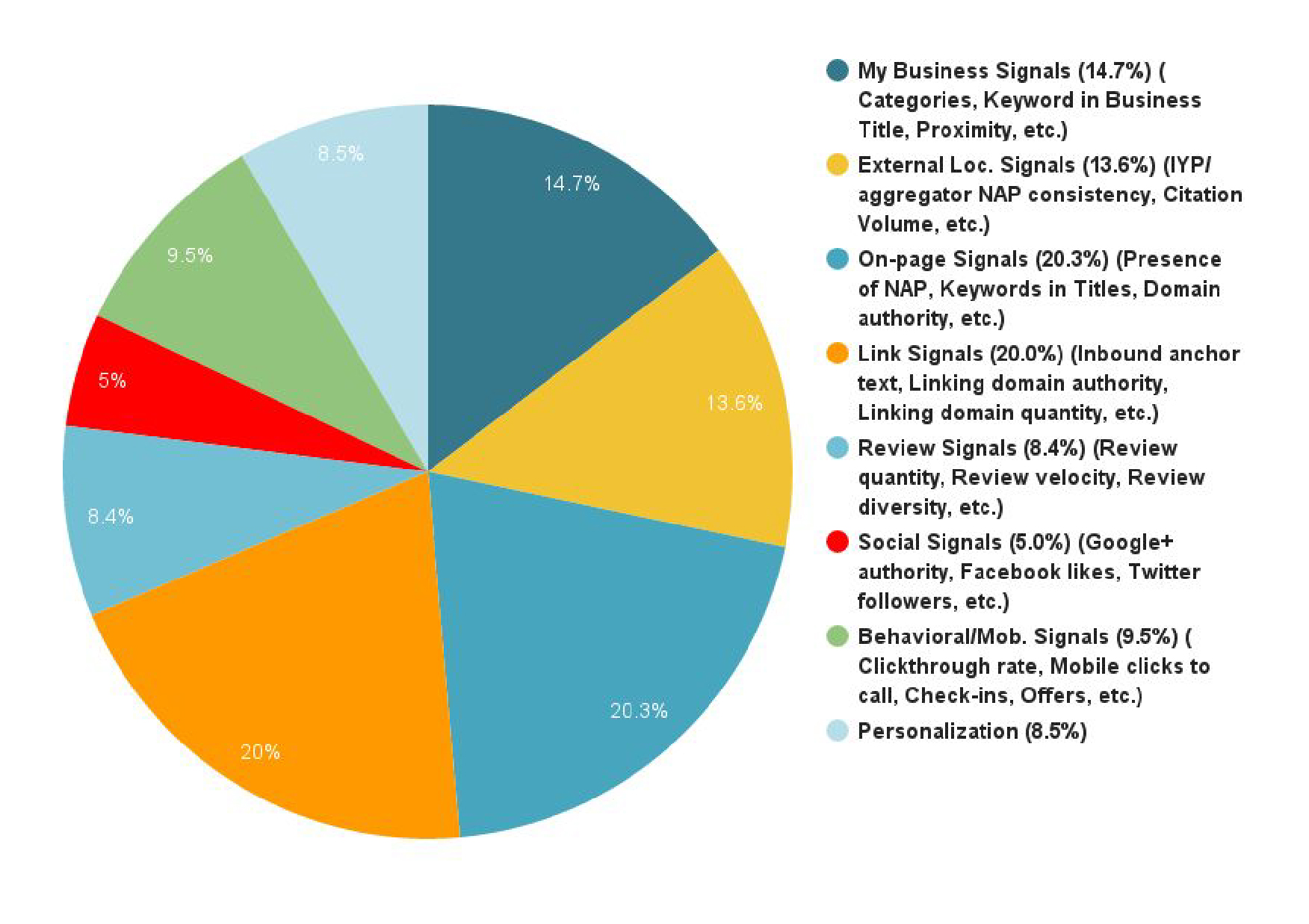 Here you can see Overall Ranking Factors by the moz.com version https://moz.com/local-search-ranking-factors
Local Ranking Factors
But how does Google decide which local business deserves to be ranked higher than another one, when most of them follow the same guidelines, preaching the same basic optimization tactics?
Well, #1 rankings don't mean everlasting success, since there are a lot of different ways to find something that you need. Users' behavior may differ dramatically: some users avoid clicking the first line in the result set, others prefer the third one. They may also choose the local pack and look at reviews or switch to another website to check out other user reviews.
Actually, there are not that many local SEO studies but the one you should know about is 2016 LOCAL SEO RANKING FACTORS. Andrew Shotland, Dan Leibson, and Mark Kabana fetched out 100+ factors across 30,000 businesses to try to figure out how local businesses can rank better in Google and created one representative survey with surprising results:
Locations with a lot of reviews are ranked higher. Google My Business (GMB) signals had a strong showing; reviews and photos, as well as Owner Verified (OV) profile strongly correlated with positive GMB performance.
Links are the key competitive differentiator.
Keyword usage and the choice of words still matter.
Having the keyword in your business name ranks about 1.5 spots higher.
Magento was SEO friendly from the very beginning. But what tricks for SEO and especially for local SEO are available in Magento 2 and what are the ways to improve Magento 2 SEO?
1. On-page signals
This process of searching and ranging is very similar to dating ;) Magento store is prepared to attract and impress the search engine, while search engine improves searching process to find and date the best sources. So, at first you need to prepare your store for the watershed meeting. These heartless guys (I mean search engines) don't believe in your sincere persuasions that your store is the best they have ever visited. They need to find well-organized and structured data on your site to understand that they deal with a professional. So how to organize this journey?
1.1. Schema markup and Rich Snippets Rich snippets or micro-data are a type of secondary structured data markup that can show additional information for relevant search queries. Web pages structured with micro-data look clearer for search engines.
But why these rich snippets are so important for eCommerce stores? Webstores content (such as product name, pictures, videos, pricing, inventory, ratings and reviews) has quite a predictable format. So it can be easily picked from the product page and displayed in the SERP listings.
Web stores with optimized structured data markup get 30% more clicks. Out-of-the-box Magento 1 has no Rich Snippets functionality, so you had to optimize the structured data manually or use 3d-party solutions. Relax now, 'coz in Magento 2 rich snippets are available on the product pages by default.
Google reads several types of rich snippet markup, but it prefers Schema.org. Schema.org markup raises the website's ranking position providing it with right metatags. Schema.org is already added to the Magento 2 template by default; so, price, reviews, or other markups are displayed automatically.
Schema markups added to products by default:
AggregateRating for products with reviews
Offer – price and priceCurrency
Image(s)
SKU
Product name
To implement structured data for breadcrumbs, product availability, category pages,etc., you'd better use a 3d-party solution like Rich Snippets from our good friends Atwix.
Use Google's Structured Data Testing Tool to check whether your markup data is structured correctly.
1.2. Robots.txt, XML sitemap, Canonical tags for filtered category pages
Robots.txt, XML sitemap, Canonical tags for filtered category pages are well describe in Magento 2 SEO features exploration post.
1.3 Landing pages
If you your business is based in one particular location, it is makes sense to create a universal landing page containing all the related content in one place including the list of the company's services, each being clickable to prove further information on each of them. If you have several business locations, create separate unique landing pages putting emphasis on peculiarities of each one.
How to create location specific pages that aren't just repetitive.
Companies operating in several locations should ideally aim for unique content on different pages to make them "localized". This might be especially difficult for the companies which offer their services in various locations, but have a single physical address. Creating an exclusive page and content for each location will serve you a great purpose - get you to higher positions in search results of location-based requests, which are very common among users. If constructing unique content seems to be a challenging task for you, here are several ideas you can start from:
1) You website may be a single platform but it can be divided into separate sections, one per each location. Here is how you can structure it:
/locations/
/locations/location-1/
/locations/location-1/reviews
/locations/location-1/clients
/locations/location-1/news
/locations/location-1/news-post1
/locations/location-1/news-post2
/locations/location-1/promotions
/locations/location-2/
/locations/location-2/reviews
/locations/location-2/clients
/locations/location-2/news
/locations/location-2/news-post1
/locations/location-2/news-post2
/locations/location-2/promotions
There is no need to be a source of all information though, since you can easily attract website visitors by highlighting relevant news of this area and listing some of you local clients for building more credibility, interviews with local business owners and leaders, a photo gallery of events, working process, happy customers and so on.
2) Add a review page to your website and encourage your clients to leave more feedback there. The more reviews you have, the higher you are ranked by search engine, and the more trustworthy you become for prospects.
3) Use some backlinks and point them to location specific pages.
Homepage or landing page must contain the most relevant information about your webstore. Page title is a primary indicator of your on-page content, so don't neglect it and add the most important information there. It is critical to put the most relevant and effective keywords in the title and H1 of the Homepage or landing page because bots are likely to scan them more thoroughly and rank them higher than other pages of the website.
If you have multiple locations, you can lure visitors to one general page with locations selector that leads to different location pages. Individual location pages should contain city names.
It is also critical to make sure that your on-page data and data on Google My Business profile are identical.
2. Physical shape
Take care of the physical shape as well! ;)
Google checks behavioral and mobile signals. The better impression your store makes on the visitors, the more clicks it gets. If your web store appears on top of search results but folks don't click it, well.. it's a bad sign; if they open your web page and immediately leave it, it's obviously a bad sign as well. Behavioral/Mob. Signals (9.5%)
(Clickthrough rate, Mobile clicks to call, Check-ins, Offers, etc.) There are a lot of reasons that influence visitors' behaviour reactions but some of them can be improved by investing in a more engaging website design.
2.1. Page load time and performance
If an e-commerce site is making $100,000 per day, a 1 second page delay could potentially cost you $2.5 million in lost sales every year. – Kissmetrics Web store speed is one of the critical factors that influence ranking.
According to E-commerce Benchmarks 2016 study, the server response time correlation with conversion rate (-0.31) is one of the strongest. It's dramatically stronger than engagement metrics, such as time on site (0.11) or pages viewed (0.10). Also, it was found that for every two-tenths of a second you shave off your server response time, you'll increase conversion rate by 8%. Don't forget that site speed is a Google ranking factor, so by optimizing it, you'll benefit from a "multiplier effect" of more traffic and a higher conversion rate.
Thankfully, Magento 2 accelerates site performance. Nevertheless, you should take care of whether your website is hosted on a reliable and speedy hosting stack. PHP7, HTTP2, Varnish boost your Magento 2 store performance.
2.2. Mobile optimization
Mobile sessions have made up more than half of all site traffic in 2015. To lure more pleased mobile visitors, your web store should naturally be mobile-optimized. The use of responsive design will create a smooth mobile experience that boosts conversions and sales.
Google launched a mobile-friendly algorithm that avoids mobile-unfriendly web stores back on April 21, 2015. Year by year it has been making penalties for such sites harsher, so search engines give higher rates to sources with mobile-friendly ranking signal.
Responsive design is a built-in feature in Magento 2.
3. Reputation
You should care about your reputation all the all the way through, since a well known name and good reputation have a big impact on search engines decision. As wise people say "Cherish your honor from a tender age."
3.1. Google My Business
My Business signals have 14.7% in Overall Ranking Factors. Search engines check the consistency between your Google My Business account and info on your store. This is how Google confirms that your business is legit, so the more you do to prove that your business is legit, the more your chances you have to be ranked higher.
3.2. Reviews
Review signals 8.4% in Overall Ranking Factors
According to a study by BrightLocal, 92% of people look to online reviews when deciding to use a business. We also know that people click on them in Google. And we know that Google is trying to get as many of them as possible in their own search results.
This August Google announced that the will offer greater support of reviews for local businesses. By incorporating structured data to their sites, publishers can promote their content on local Knowledge Graph cards and users can enjoy a range of reviews and opinions. Publishers with critic reviews for local entities can get up and running by selecting snippets of reviews from their sites and annotating them and the associated business with schema.org markup.
Knowing that Google is putting more emphasis on crawl data and that it's looking for more ways to get reviews, you need to get your local information and reviews in all the places Google might look and make it easy for search engines to "understand" it.
Product reviews in Magento 2 are automatically are inputted in schema markup. You can just check if the data in schema markup appears correct via Google Structured Data Testing Tool
But local SEO tips like local links and quotes empower all websites, so this can benefit not just local but multi-location national brands too.
3.3. Citation Volume
External Loc. Signals or citation value 13.6% in Overall Ranking Factors.
Citation is your NAP information, Name Address and Phone number is on other websites. There are a lot of places where you can leave NAP of your store. It helps to rank organically, Google Snack pack and Google local pack
3.4. Link signals
Link signals 20% Links aren't everything in SEO, but a large portion of the engines' algorithms are based on link-related factors. Via links, engines analyze how popular this website is and other pages linking to it build more trust and authority. Magento 2 can't help you with correct link building, it's just for general information. Links still work and they still make the most difference based on data from recent studies.
3.5. Social Signals Social Signals (5.0%) are Facebook likes, Twitter followers, etc.
In 2016 Facebook Traffic Quantity Quadruples from 1.3% in 2015. There are a lot of different social media extensions on the Marketplace, so you can implement the ones you think can promote your store best. Just remember that social signals really matter. Links to your content on Facebook, Twitter, LinkedIn, YouTube and other social networks help search engines to estimate website credibility and how they should be ranked. https://blog.kissmetrics.com/social-media-and-seo/
And when all preparation work is done and the search engine has found your amazing Magento store, we wish they have a good date and like each other. And as any romantic story must have a happy ending, we wish them to fall in love and spend all their life in harmony, until new search algorithm parts them or even longer! :)