Magento Enterprise Edition 2.1 provides 3 times faster growth for merchants!
The brand new Content Staging and Preview capabilities enable merchants to make their tasks independently, without any need to involve Magento developers, meaning that more and more things can be done quickly and without additional expenditures. Merchants are now able to launch new products, promotions, and marketing campaigns right from the Magento Admin panel. (Please note that these powerful features are available from Enterprise Edition only.)
Being a #1 platform in B2B and B2C categories, Magento has:
25% of global market share
$50B + annual commerce value.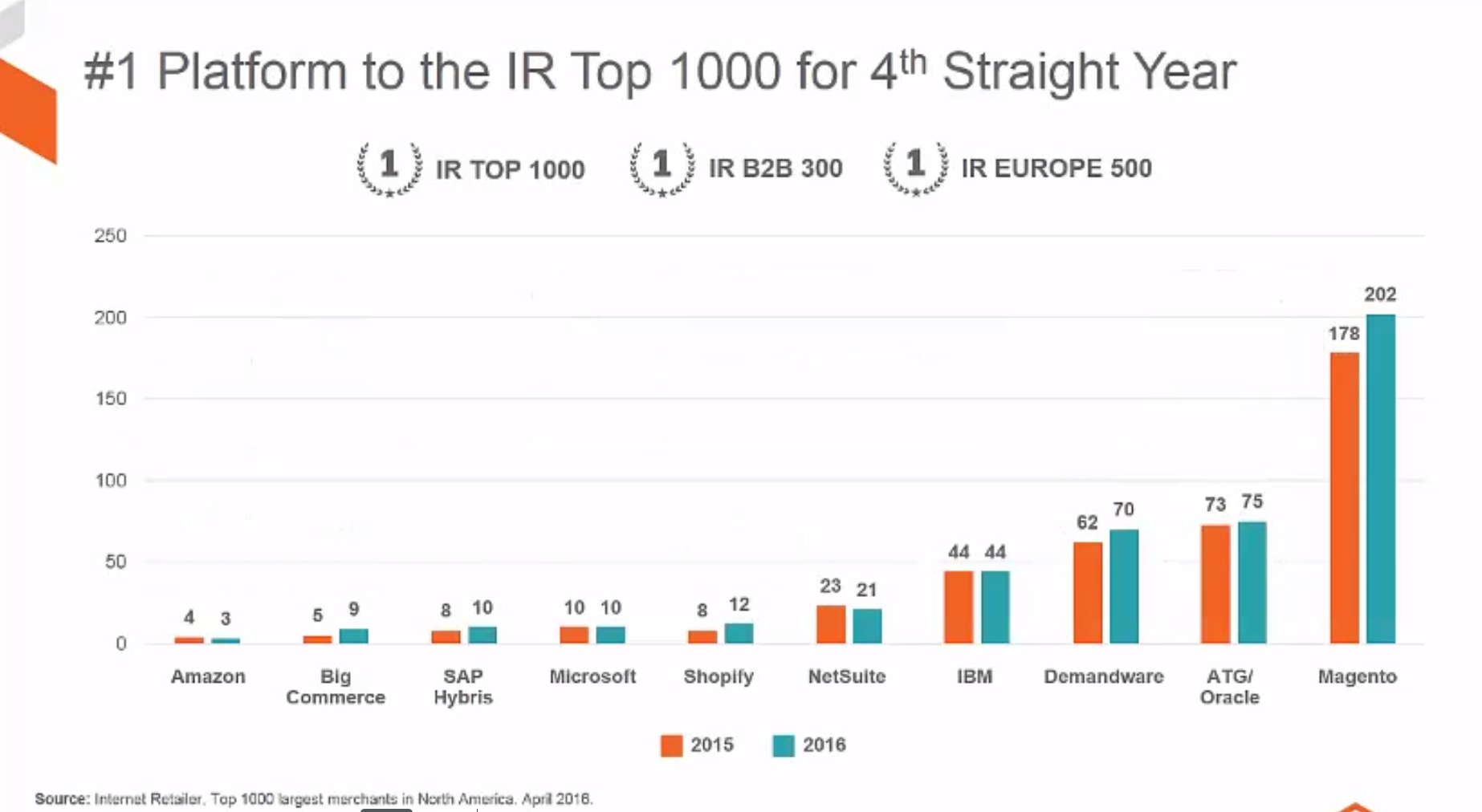 Magento 2 is transforming the commerce field dramatically with the new experience it offers to those who rely on it:
Enhanced business agility
Engaging customer experience
Enterprise scale and performance
Modern platform architecture
Due to the new powerful features of the next generation platform, marketers and merchants are able to do more and reach more as a team. Magento 2 allows business team to:
Get fresh, new experience to market faster
Boost conversion rates with minimal effort
Focus on growing your business rather than managing IT
Magento Enterprise Edition 2.1 - Key Features and Benefits
Engaging customer experience with Content staging and Preview:
Create Previews and schedule site updates easier than ever no Magento developers help needed.
User-friendly tools developed through extensive usability testing make the whole process fast and efficient.
Optimize the timing and impact of campaigns though the timeline dashboard.
Preview changes in checkout to confirm that all promotions work as expected.
PayPal in-context checkout
PayPal saved credit cards
Elasticsearch implementation
Stage and preview virtually any content:
Create updates to products, categories, CMS content, promotions, additional entities with customization
Group updates into campagnes for easier management
Schedule unlimited number of updates
Due to the Preview feature you can manage updates by Date and Store View, ensuring that you deliver a flawless shopping experience to your clients. With Magento 2 you are able to switch between multiple language versions of the site to ensure that your campaign runs perfectly on all localized versions or check other updates. Also, you can send links to preview pages to your team members to discuss and approve the changes made.
Enhanced payment options of Magento Enterprise Edition 2.1 boost conversion rates like never before! Customers can now make a purchase with PayPal in overlay window of the merchant's account without actually even leaving your store. This feature alone increases conversion rates by 69 basis points!
Also, customers are now able to make repeating purchases fast and easily due to their cards being securely stored in PayPal. It is a real time saver and customers truly adore quick checkouts; so why not to use it as another trick to gain loyal customers? Braintree hosted fields provide simple PCI compliance. It securely collects payment information directly from your site. But, since only individual fields are replaced by Braintree, you are free to customize your checkout experience and conversion rates.
Elasticsearch is a cutting edge site search technology using 33 languages out-of-the-box, allows using "stop words", searching synonyms, attribute weighting to deliver highly relevant search results and convert visitors into purchasers. Elasticsearch is designed specifically for large catalogs, so it scales to the growth of search volumes effortlessly.
Magento 2 Extensions for web store customization
237 top Magento 2 extensions are available in the Magento Marketplace and 339 are coming soon. All extensions in the new Marketplace have passed technical and marketing screening so they have satisfied first quality standards. If you any extension critical for your store on Magento 2 doesn't have compatible version for Magento Enterprise Edition 2.1 you can email to marketplacerequests@magento.com and support team will solve your issue.
Deploying Magento Enterprise Edition 2.1 in the cloud
A robust solution enabling rapid deployment and ongoing innovation combining industry-leading cloud technologies with the full flexibility of Magento Enterprise Edition 2.1. It helps to focus on your business, reduce resource contention between IT support and business. Your developers will have more time for creating innovative features for your webstore.
Magento Enterprise cloud edition provides:
Content delivery and performance monitoring
Platform management and hosting
Access to full Magento EE sourcecode
Access to ecosystem of extensions from Marketplace and partners
Custom control upgrades and patches
High-availability environment
24/7 monitoring and Magento support
Repeatable deployment processes for developers
Predictable results: if it runs on staging, it will run in production.
Magento Enterprise Edition 2.1 Webinar from Magento on Vimeo.