Finally, after years of uncertainty and discussions if Magento has a future or where to migrate from Magento, people started talking in a positive way about this powerful eCommerce platform again. Eventually, Hyvä and Mage-OS are the drivers that awaken the Magento community and give hope for a better future. And empowered with Magento Association and Adobe Commerce, it for sure will have a bright one. Magento got its success mainly due to its community, when the community feels demotivated, it leads to stagnation (Magento/Adobe Commerce for years were losing markets to competitors), and now, when people around Magento are full of enthusiasm, it is time for a renaissance.
It may seem like a very strange talk to business owners. Why should you care about the platform? If there are other alternatives, then take a better one. We just need a stable, scalable web store with all the required features, flawless integrations, and the ability to extend functionality according to our business needs. And all eCommerce platforms declare precisely the same. The problems are in reality when you start development and face the limits, poor support, and no other way than to put up with limitations.
When it comes to Magento with more than 260,000 developers worldwide that actively collaborate and contribute to the Magento ecosystem, limitations or a lack of ready functionality is a question of time.
Meet Magento is one of the events where Magento folks exchange their experience, increasing their expertise and gathering insights and inspiration to build even better web stores.
Here are some interesting insights from Meet Magento Netherlands 2023.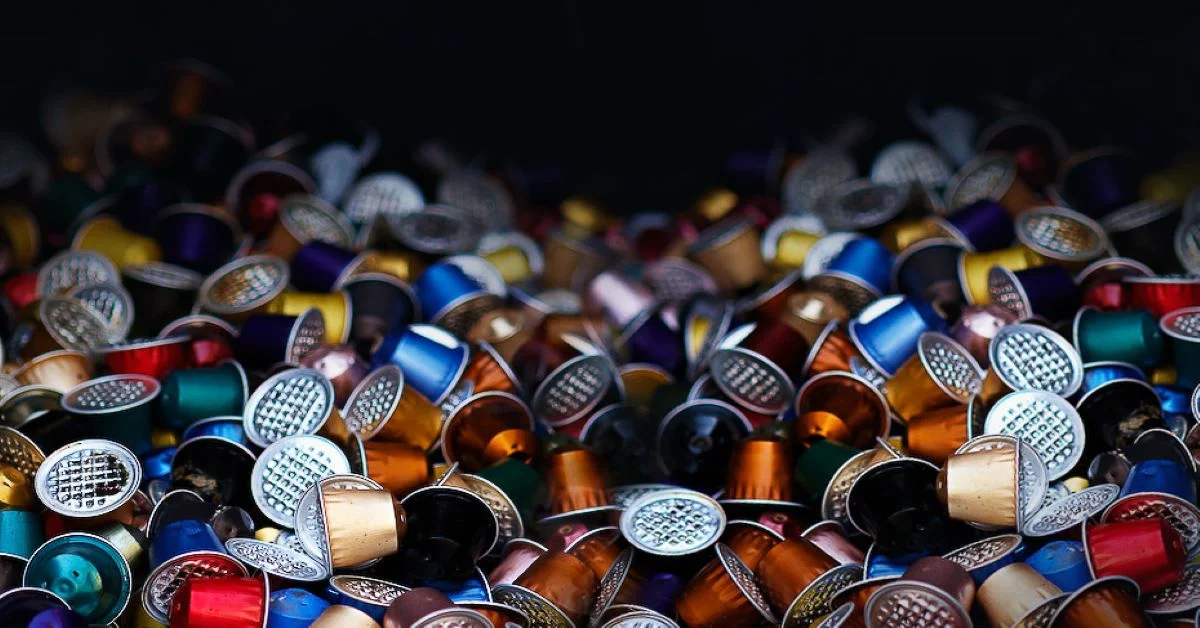 Just in the Netherlands, consumers use 1B coffee capsules per year

Coffee capsules are super handy but waste aluminum like hell. Just in the Netherlands, consumers use 1B coffee capsules per year and 80% of them end up burning. Aluminum is an amazing material that can be used in a wide range of industries, but annually 4-5M kg of aluminum is burned. So, in 2017 De Koffiejongens came up with the idea of 100% biodegradable coffee capsules with a goal of Alu-Minimum. They started active development in 2020 with a few successful campaigns and with the help of COVID when their subscription model became relevant. Besides biodegradable capsules, De Koffiejongens also delivers its coffee packages by bicycle or electric buses.
The story about De Koffiejongens – Bram van IJsel Smits

Sustainability and delivery are important, but it's not enough to win the customer. What is also important is a high-quality product for a better price than competitors. And De Koffiejongens does that as well.
It seems to be enough, but the customer subscription experience should also be excellent and here is the place for flawless web store functionality. There are subscription solutions for different platforms but not all of them are flexible enough to meet merchant requirements. Often, the problem is with payment getaways that don't support subscription models. De Koffiejongens uses Mollie, which supports recurring payments and subscriptions.
🤔🚀🛠️📈 Hyvä fixes all of my performance issues, right? - Karlijn Löwik, RUMvision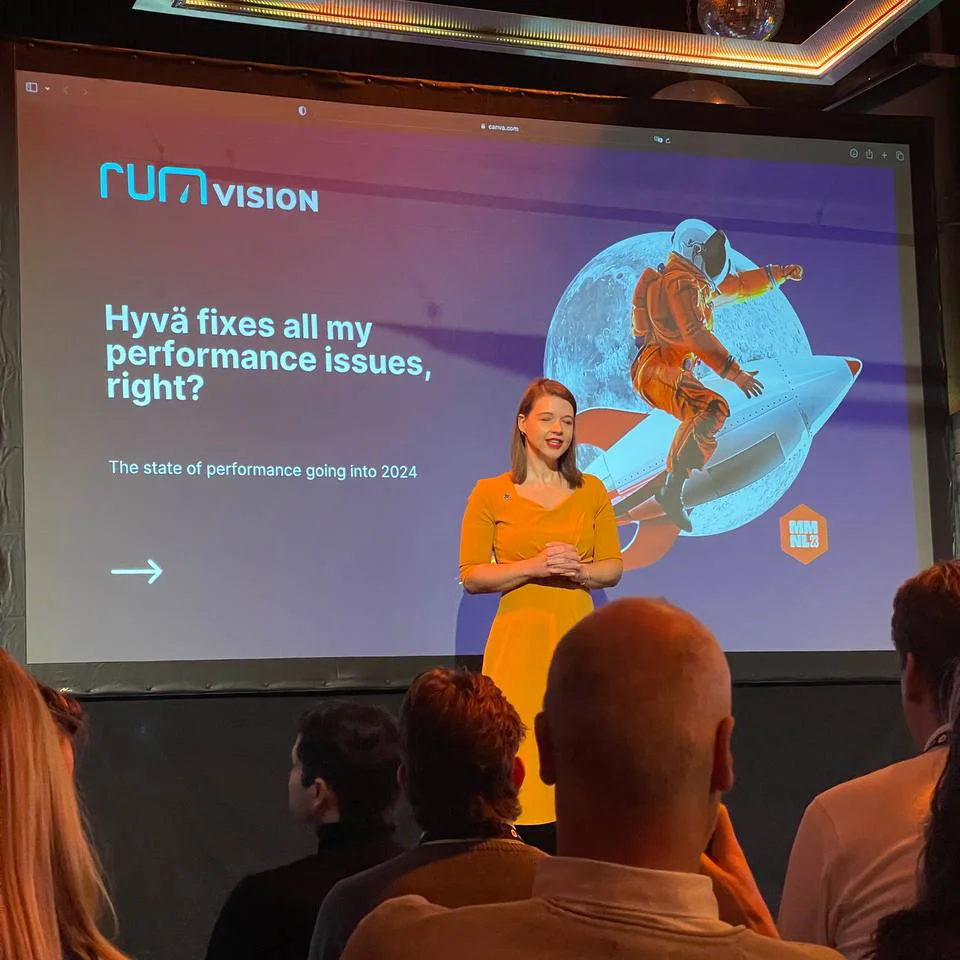 Hyvä fixes all of my performance issues, right? - Karlijn Löwik, RUMvision

What a dream! You install Hyva, and all your performance issues are gone. Is it so? No!
In reality, almost 50% of Hyva sites don't pass Core Web Vitals.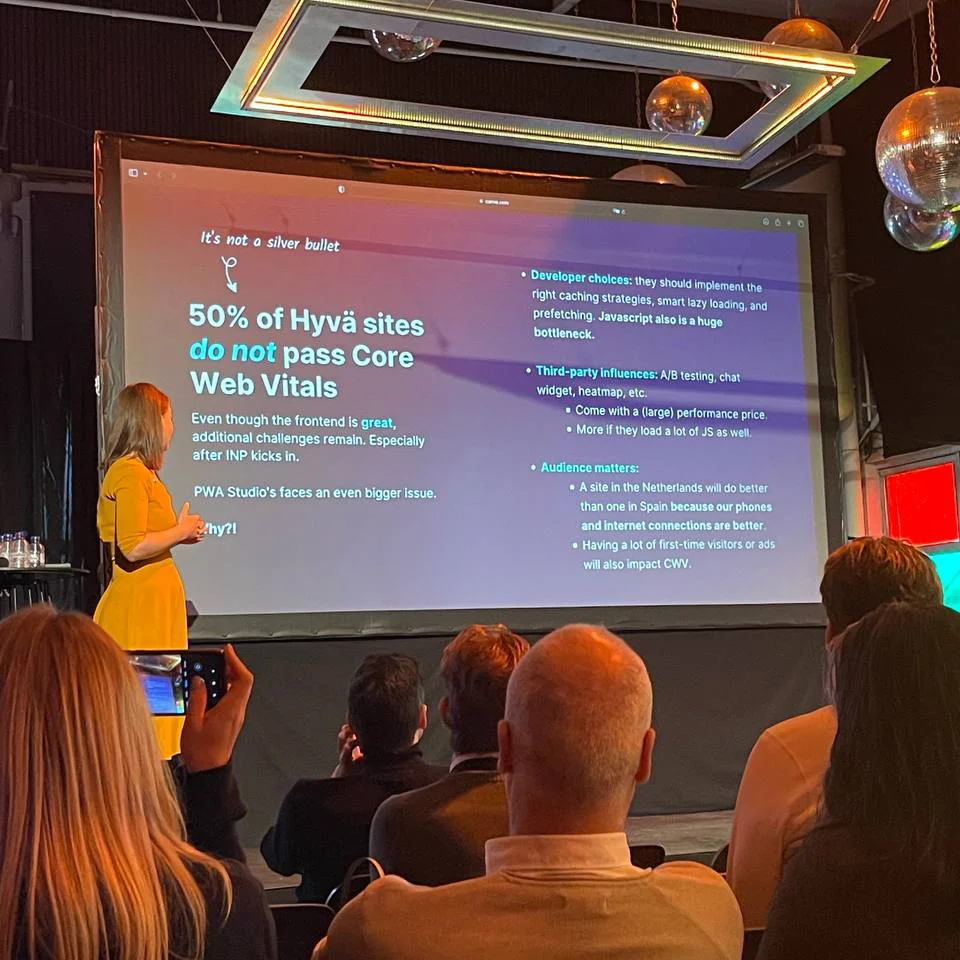 Hyva isn't a silver bullet

So, how come Hyva isn't a silver bullet?
There is nothing to blame Hyva for but marketers who are forcing developers to integrate third-party systems 😁 All those A/B testings, chat widgets, heatmaps, etc. For sure third-party tools are important but business has to make a wise choice on what systems to integrate and ask developers what will be the performance price of such integrations and if it's possible to inject that code with less impact on performance. We also can blame developers on the wrong caching strategy, on lazy-loading of images from the main view port, missing prefetching, etc.
Some not-so-obvious reasons:
📱🌍 Audience. A site in the Netherlands will do better than one in Spain because our phones and internet connections are better.
📢Traffic from ads. There is a delay when the user clicks on the ad and gets to the website.
🆕📊 Having a lot of first-time visitors. The page will load longer as there is no data saved in the cache.
So if you launch a big ads campaign oriented on new visitors, you can see some downgrade in your Core Web Vitals real-user data.
How to handle that? Monitor your real-user data more frequently. Google shows Core Web Vitals scores based on 28 days of visitor history. Tools like RUMVision allow us to check immediate changes. For instance, you launch a new banner section on your web store. There is no need to wait 28 days to see if there is an impact on performance. You can check it and react immediately without a month delay.
🤔 🏭 🛒Combine B2C platform with B2B, should you do it? - Jonghaur Chia, Youwe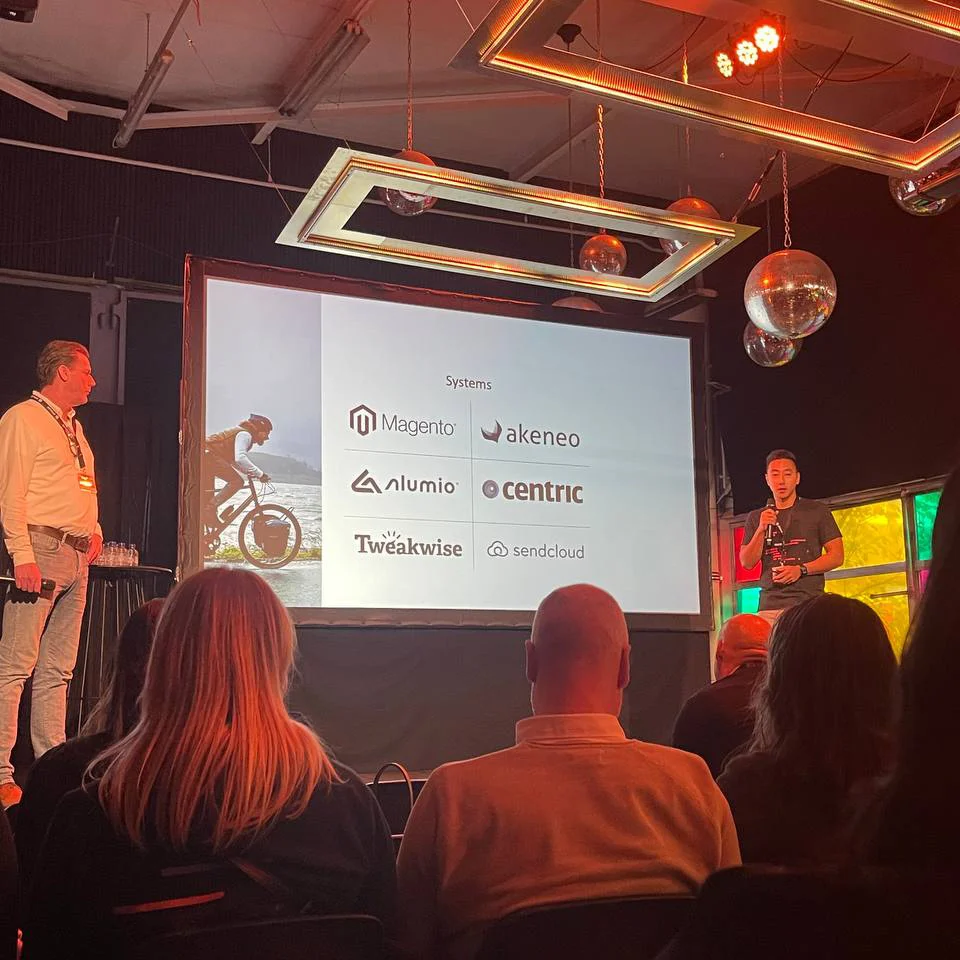 Combine B2C platform with B2B, should you do it? - Jonghaur Chia, Youwe

Dutch cycling brand AGU has been running a B2C store on Magento Open Source for years. The business was gradually growing and it required more complex functionality, so Youwe migrated the web store to Magento Commerce (Adobe Commerce) and rolled out multiple country versions. The next step was extending on B2B. As the B2C store showed good results, it was decided to build a B2B environment for dealers and wholesalers based on the current B2C version. Long story short, it was challenging as B2B solution functionality differs greatly from B2C. For instance, the dealer portal allows wholesalers to discover the complete AGU offering, not only the AGU brand but also a wide range of supporting brands that AGU offers to their wholesalers. B2B has a completely different returning process, etc. At the end of the day, Youwe successfully developed a robust ecosystem with rich functionality for AGU, but they assume that building two separate systems for B2C and B2B could also be a good option.
If you need some more arguments why to go to B2B here you can find some.
🔍🌟🔄 Search & Discovery redefined: Let's make every eCommerce experience a relevant one! - Stefan V., Dick Vloedgraven, Tweakwise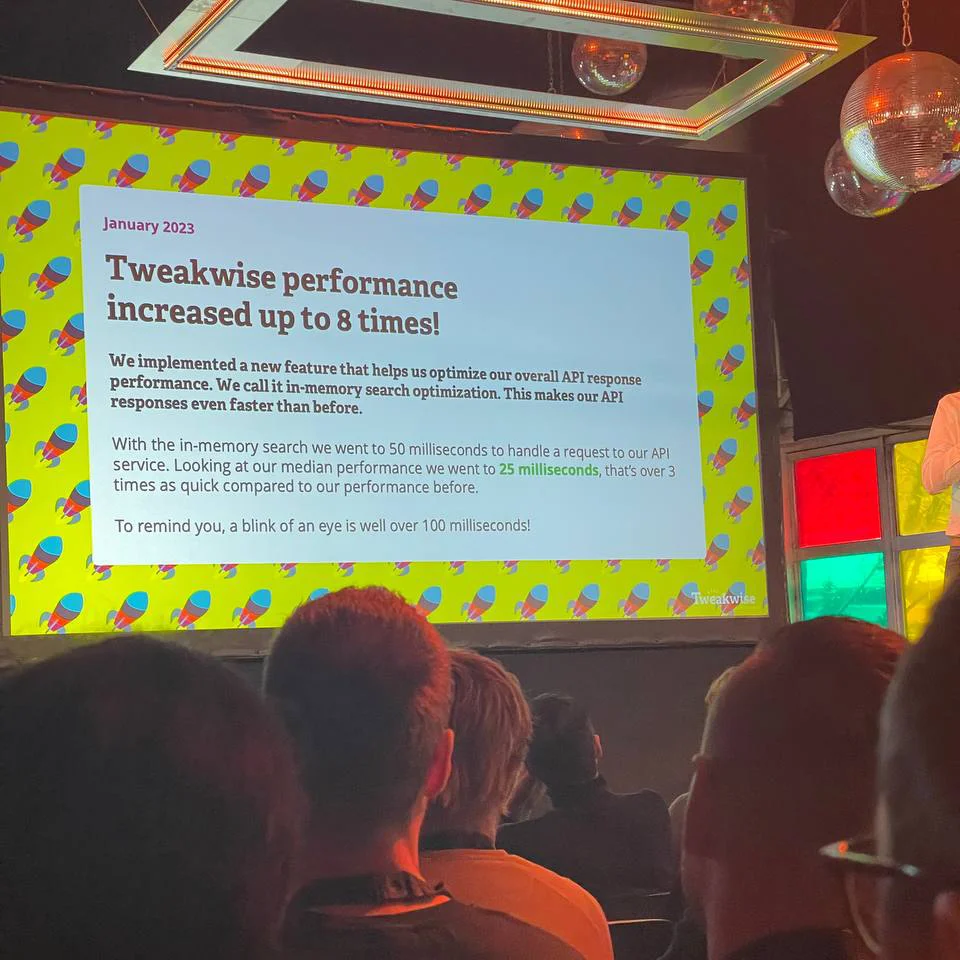 Search & Discovery redefined: Let's make every eCommerce experience a relevant one! - Tweakwise

Good performance matters because it gains a competitive edge, outperforming your competitors by 20%.
Tweakwise is a suite for personalized site search and merchandising. Sure thing, as any third-party system that you integrate to the web store it has an impact on performance but the Tweakwise team does their best to make their system perform blazing fast providing excellent user experience to web store visitors.
Key takeaways from Tweakwise:
🎯 Focus on delivering relevance to shoppers, regardless of their desired path to purchase
🛒 Relevant eCommerce experiences provide the perfect blend of commerce and content. We need to 'physicalize' digital experiences
🤖 Optimizing Search & Discovery has a massive impact on user experience and online turnover. Merchant control with AI assistance is the winning formula
🏆 Brand reputation and revenue depend on fast user experiences
🚀 Invest in optimizing your site, use specialized Saas tooling for the best results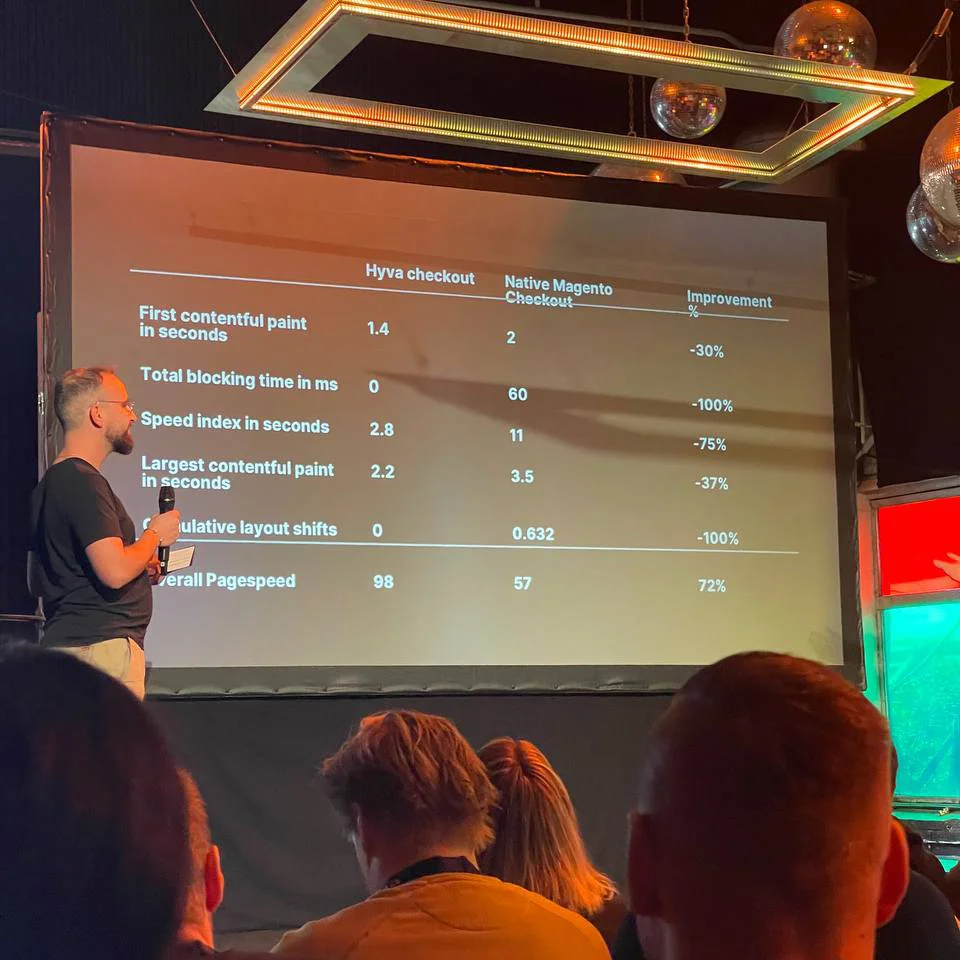 Hyva Checkout compared to Native Magento Checkout

Sweet Jewellery by Willemijn web shop started selling handmade jewelry in 2013. And now Sweet Jewellery is a webshop with three rapidly changing collections per week, also selling the most stylish clothing for every woman, regardless of body type. An important insight from the owner - the store owner doesn't want to think about the technical side of the web store. It doesn't matter what technologies are on the backend, what is on the checkout, etc. So the agency that takes all that technical headache on it - is the best one. And Vendic does it.
How would you measure the success of the checkout implementation?
Jamie gave an excellent answer - after implementing the Hyva checkout, we have fewer complaints from customers. That means that the new checkout is slightly better.
👥🌐🛒 Benefits of web accessibility in eCommerce - Kuba Zwolinski, Snowdog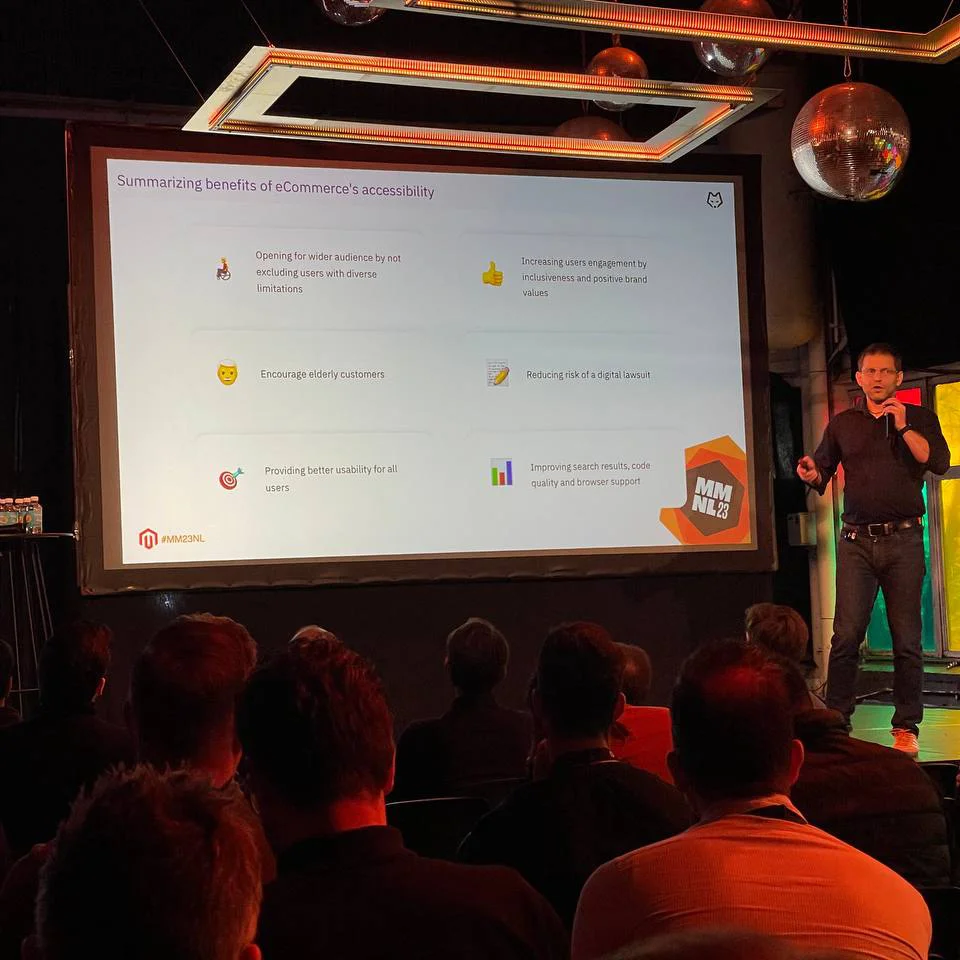 Benefits of web accessibility in eCommerce - Kuba Zwolinski

Web accessibility means that anyone can access, read, understand, and use your website content. eCommerce stores are losing $6.9 billion annually due to website inaccessibility.
The Internet was initially designed for young people, but as users age, they may experience accessibility issues. Web accessibility is a legal requirement now, and poor accessibility can cost merchants hundreds of thousands of dollars. All public and commercial web pages must comply with WCAG 2.0 and The European Accessibility Act (EAA). The EAA requires EU member states to pass necessary accessibility laws by June 28, 2022, affecting every company that does business in the European market. Web accessibility remains key to complying with the EAA.
The 4 rules of web accessibility
There are 4 main principles that we need to remember while working on accessibility. Our Web content should be POUR-able:
🎨 👀 Perceivable (all users should be able to see and sense all the information and features on the website)
🗺👨💻Operable (users should be able to use and navigate the website easily)
📚 🤔 Understandable (the information as well as all the features and operations should be understood by users)
📣🔍 Robust (the website should be compatible with various assistive technologies and user agents and still remain accessible as technology evolves)
Web accessibility can't be solved with a fancy app that will bring some JavaScript code to your website and, in a magic way, make it accessible. They don't solve 100% of issues, leaving breaches that can cost a significant penalty to the business. Reducing the risk of a digital lawsuit is not the only benefit of eCommerce's accessibility. There are plenty of other:
Opening for a wider audience by not excluding users with diverse limitations
Increasing user engagement through inclusiveness and positive brand values
Encourage elderly customers
Providing better usability for all users
Improving search results, code quality, and browser support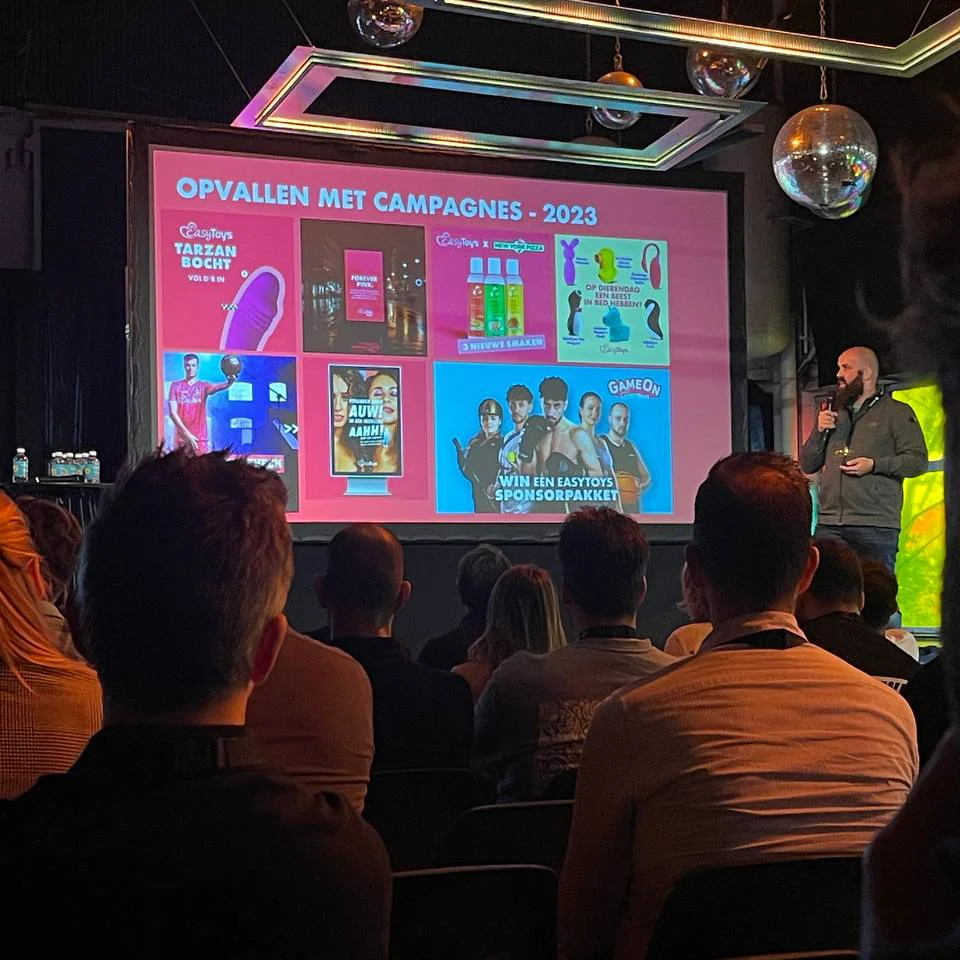 From attic room to Hema - Patrique Benes, EasyToys

"Hema" is a well-known Dutch department store chain. And Easytoys has become a well-known chain of goods for pleasure in the EU. This impressive success story is based on a smart marketing strategy and non-trivial ad campaigns.
Easytoys has been the main sponsor of FC Emmen since 2020

Easytoys has been the main sponsor of FC Emmen since 2020, the main sponsor of Olympic qualification curling, and the sponsor of the Fryslân Tour cycling race. For the Pride parade in Amsterdam, Easytoys has decorated a huge platform boat and covered all Amsterdammertjes (that typical red-brown steel traffic bollards that are used to separate the pavement from the street in Amsterdam) with plastic "safers".
Easytoys was named the fastest-growing company in 2022. It has already extended its operation to 9 countries. Sure thing that Magento isn't the main factor in this sexessful 😁 story, but it's an excellent example of Magento scalability.
💡🔄🚀 Evolutionary e-commerce – you need Hyvä, not a revolution - Willem Wigman, Hyvä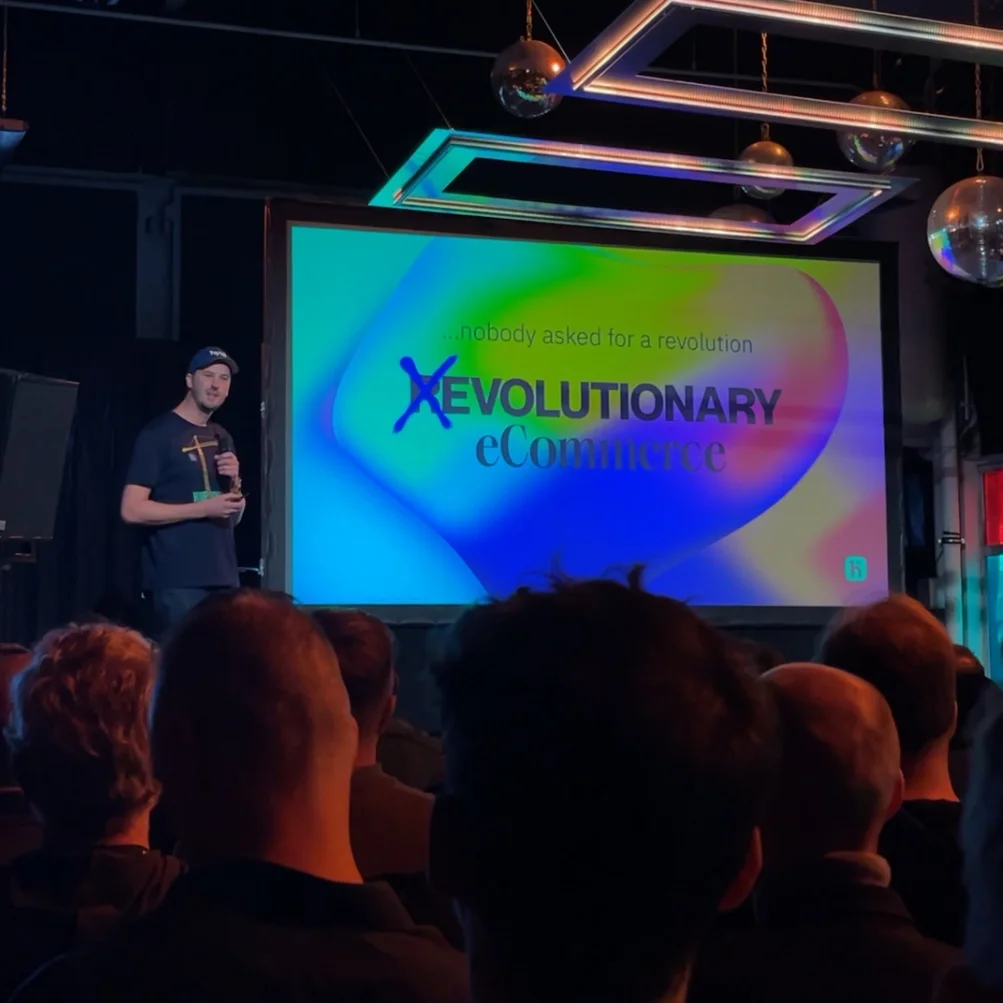 Evolutionary e-commerce – you need Hyvä, not a revolution - Willem Wigman, Hyvä

"Nobody asked for a revolution. Evolutionary eCommerce."
It seemed that all 300 MMNL23 attendees were in the audience for the talk of Willem Wigman. And the atmosphere was like during the Apple presentation. But instead of the new iPhone, iPad, iWatch and Mac, there were Hyva Themes, Hyva Checkout, Hyva UI components and Hyva Enterprise 😁
It's impressive how, in just 3 years, Hyva has reshaped Magento's future.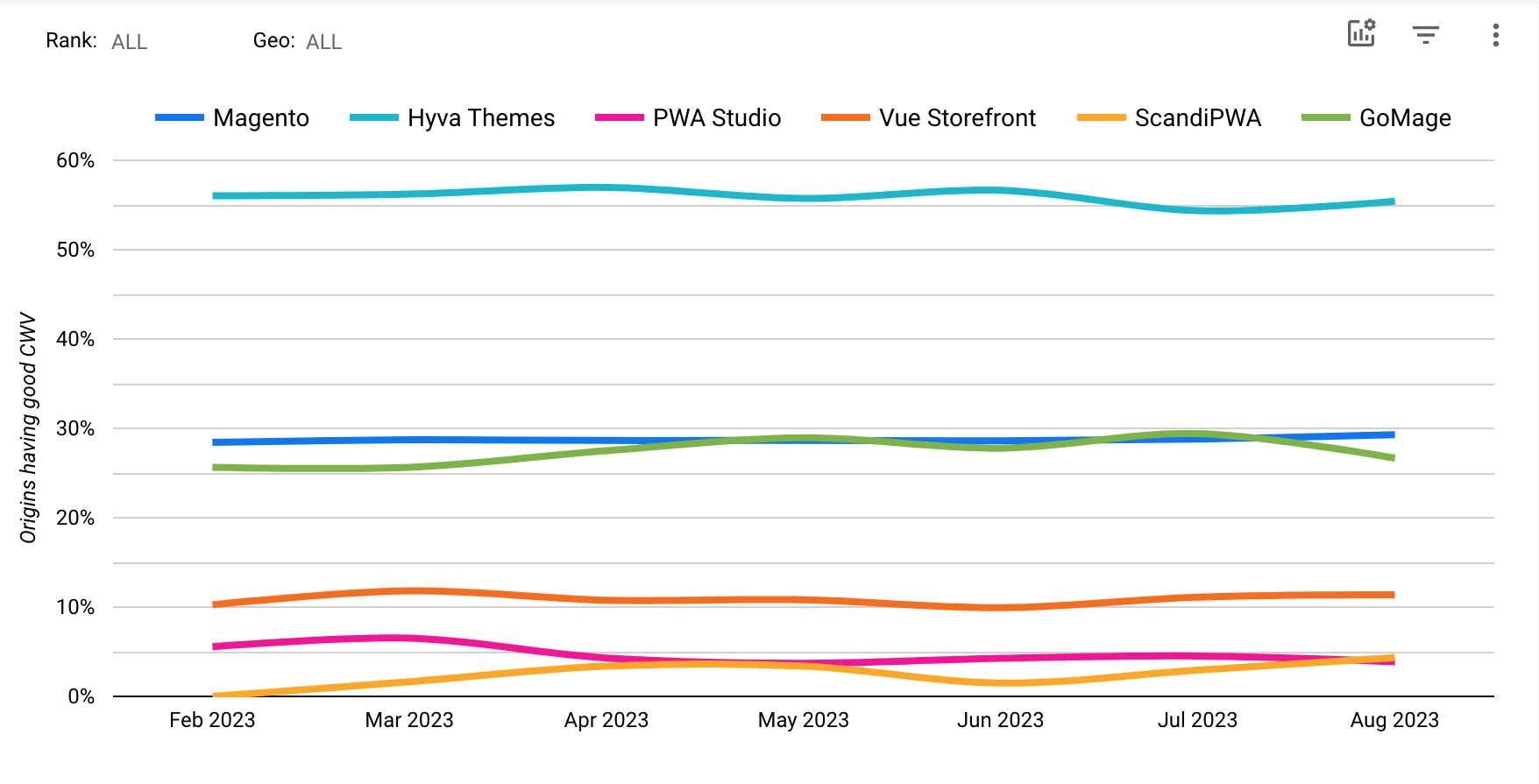 Core Web Vitals Technology Report

>50% of web stores on Hyva Theme pass CWV
If you are wondering why not all 100% check here or find the answer in the talk of Karlijn from RUMvision.
Hyva Checkout is 13 times faster on mobile than the average Luma checkout. It loads a page in 0.22 seconds. Development time is shorter than with Luma Checkout, it doesn't require knowledge of PHP from the frontend developer.
Hyvä UI library is a collection of prebuilt and ready-to-use components (in Figma) that work seamlessly with Hyvä Themes. It makes the development process even faster and easier. Hyva has dedicated developers who constantly work on these UI components so the library is growing.
Now, Hyva is compatible with Adobe Commerce features, including the entire B2B suite and Adobe Sensei services (Live Search/Product Recommendations). Check Hyvä Enterprise Compatibility Tracker
🚀🔥📊 Blazingly Fast Catalog Data Streaming and Processing - Ivan Chepurnyi, EcomDev B.V.
Blazingly Fast Catalog Data Streaming and Processing - Ivan Chepurnyi, EcomDev

Ivan Chepurnyi - Magento performance guru and one of the grandparents of Magento who, together with Eltrino CEO Sergey Lysak and CTO Dmytro Vasylenko, has been working on Magento in pre-Magento Varien times even before the first beta was released back in 2007.
Ivan has a fascinating solution for avoiding excessive memory usage with Indexer Implementation.
📽️ Slides
📘 Proof of concept Indexer Implementation
Thank you, MageOS Nederland, for organizing such a memorable and valuable event! 🧡 All the hottest topics about performance, sustainability, accessibility, Hyva themes, Hyva Checkout, and customer experience were discussed on the Meet Magento Netherlands stages.
It was so great to feel that Inspirable Magento Community spirit again!
#Magento #MMNL23 #Magentodevelopers #Hyva