Ladies and gentlemen, meet our first Magento 2 extension twins. We were waiting for these little miracles for the long time ;) We've made the clearest code following Magento 2 best practices, found and fixed all possible bugs. In consequence these extensions empower you to specify states/regions for your store, exclude unacceptable ones for your business, provide the best user experience for merchants via easy to use console in Magento 2 Admin Panel, simplified checkout process for your customers. But the most impressive - they save your money.
There are a lot of different reasons why you may need to disallow displaying some of states/regions in your web store. It can be a license, distributor agreement that narrows your activity to specific areas. You may sell goods that could have special law restrictions in some areas. Out of the box version of Magento doesn't let you to select and exclude displayed to customers states and regions that are included by default. But Region Manager and Region Manager Pro for Magento 2 can solve this.
These extensions can remove the list of states (regions/provinces for non-US) shown to customers at checkout, registration and shipping estimate stages.
Another prominent feature of Region Manager Pro is ability to create different shipping and billing rules for states and regions. Let's discover how it works.
Financial benefits of Region Manager PRO especially notable for US companies or entrepreneurs who ship goods within US.
Free shipping has serious impact on eCommerce sales. 60% of US shoppers add items to their shopping cart to qualify for free shipping. 32% are delay purchase to wait for free shipping offer.
<ahref="http://www.statista.com/statistics/482963/free-shipping-measures-of-us-shoppers/">
</a>
Find more statistics at Statista
Thus more and more web stores owners ship goods for free. There are lot of tips how to make free shipping profitable and implementing Region Manager Pro for Magento 2 is one of them. How does it work?
For online merchants shipping costs in different states will be quite different but in average they are on one level. But Shipping to Alaska, Hawaii, Puerto Rico or just significantly far away from your physical store location can be a very expensive, especially for heavy goods. Shipping packages under 13 oz (368.54 g) to Alaska, Hawaii or Puerto Rico cost the same as to the lower 48 states. If your package weights more than that, it needs to be shipped priority and the zip code will affect the cost of shipping. Each zone has its' own rate for shipping. The further away higher the cost.
| | | Priority Mail Express 2-Day | UPS 2nd Day Air |
| --- | --- | --- | --- |
| 1 lb 0 oz (0.454 kg) | NEW YORK - PUPOSKY | $33.45 | $27.38 |
| 3 lb 0 oz (1.361 kg) | NEW YORK - PUPOSKY | $42.25 | $34.07 |
| 1 lb 0 oz (0.454 kg) | NEW YORK - HONOKAA | $36.60 | $58.89 |
| 3 lb 0 oz (1.361 kg) | NEW YORK - HONOKAA | $46.00 | $71.43 |
| 1 lb 0 oz (0.454 kg) | NEW YORK -SAN FRANCISCO | $7.85 | $27.70 |
| 3 lb 0 oz (1.361 kg) | NEW YORK -SAN FRANCISCO | $16.65 | $36.37 |
Definitely you can offer other delivery channels, other terms of delivery, but it depends on the region. So in any case you have to create these rules, to secure your store from additive costs and remove such states from general list. You may offer special prices for shipping to distant locations or find any other safe solution.
In Magento 2 you can manage shipping and billing countries, but can't implement different rules for states in one country. So using Region Manager you can choose let's say US as the country you work with and allow states, but you are unable to choose different states for shipping and billing. With Region Manager Pro you can setup such rules, for example you can allow billing from Alaska but disallow shipping there.
More about features and configuration please find on product pages.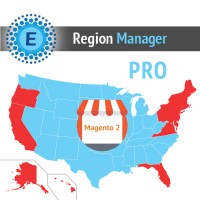 Region Manager Pro for Magento 2: Full management of States and Regions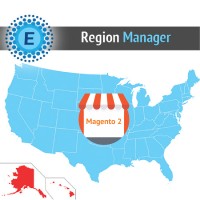 Region Manager for Magento 2: Remove States and Regions in Magento Admin