---

layout: post date: Fri, 29 Apr 2016 title: Top Email Marketing Extensions For Magento alwaysfull: true instades: BEy2DSVSdkO tags: [Magento, eCommerce, email marketing extensions, Magento extensions, email marketing tool, Dotmailer, Listrak Retail Solutions, MageMonkey, Advanced Newsletter, Follow Up Email, Abandoned Cart Email] categories: [Magento, Developer, eCommerce] description: Email triggers, follow up emails, as well as email autoresponders with related products certainly boost marketing effectiveness, increase sales and build customer loyalty.You can find about 145 free and 123 paid email marketing extensions (with the price ranging from $1- to $4.200) on Magento Connect, but which one will be the asset for your web store? — It is not a secret that email triggers, follow up emails, as well as email autoresponders with related products certainly boost marketing effectiveness, increase sales and build customer loyalty.
Magento Community doesn't have these powerful tools in its out-of-the-box functionality, but one can hardly call it a problem, as you can easily upgrade your store by the means of third party modules developed for the Magento eCommerce platform.
Nevertheless, Magento Enterprise provides its customers with exclusive features, such as Automated Email Marketing Reminder, which automatically sends out email reminders to customers with abandoned shopping carts and wish lists in accordance with customized range of different trigger conditions, such as time since a cart or wish list was abandoned, total cart value or specific items in a cart. Another practical marketing strategy is development of advertising newsletter campaign with its effectiveness depending on flexibility of available email marketing add-ons. To upgrade your business with other useful email marketing tools you need to download additive modules. If you're looking for email marketing extensions for Magento on Magento Connect, you can find about 145 free and 123 paid plugins (with the price ranging from $1- to $4.200), but which Magento email marketing extension will be the asset for your web store?
Lets start from comparing existing free solutions.
Free magento ecommerce email marketing extensions
MageMonkey by Ebizmarts
MageMonkey is an official MailChimp email marketing system integration for Magento.
It provides support for:
Multiple interest groups
Multiple MailChimp email lists
Bulk import and export
Email autoresponders (customer birthday, related products, product review, no customer activity)
Abandoned Carts Recovery via Mandrill
Sweet Tooth points and rewards
Batch sync of subscribers from Magento to MailChimp and vice versa
The system also allows sending additional Customer data to MailChimp as Merge fields Supports WebHooks to keep subscriptions in sync in both, Magento and MailChimp. For example, when customers unsubscribe on Mailchimp's site they are automatically unsubscribed from the Magento's email list as well. It also allows to force subscription on both Register and Checkout.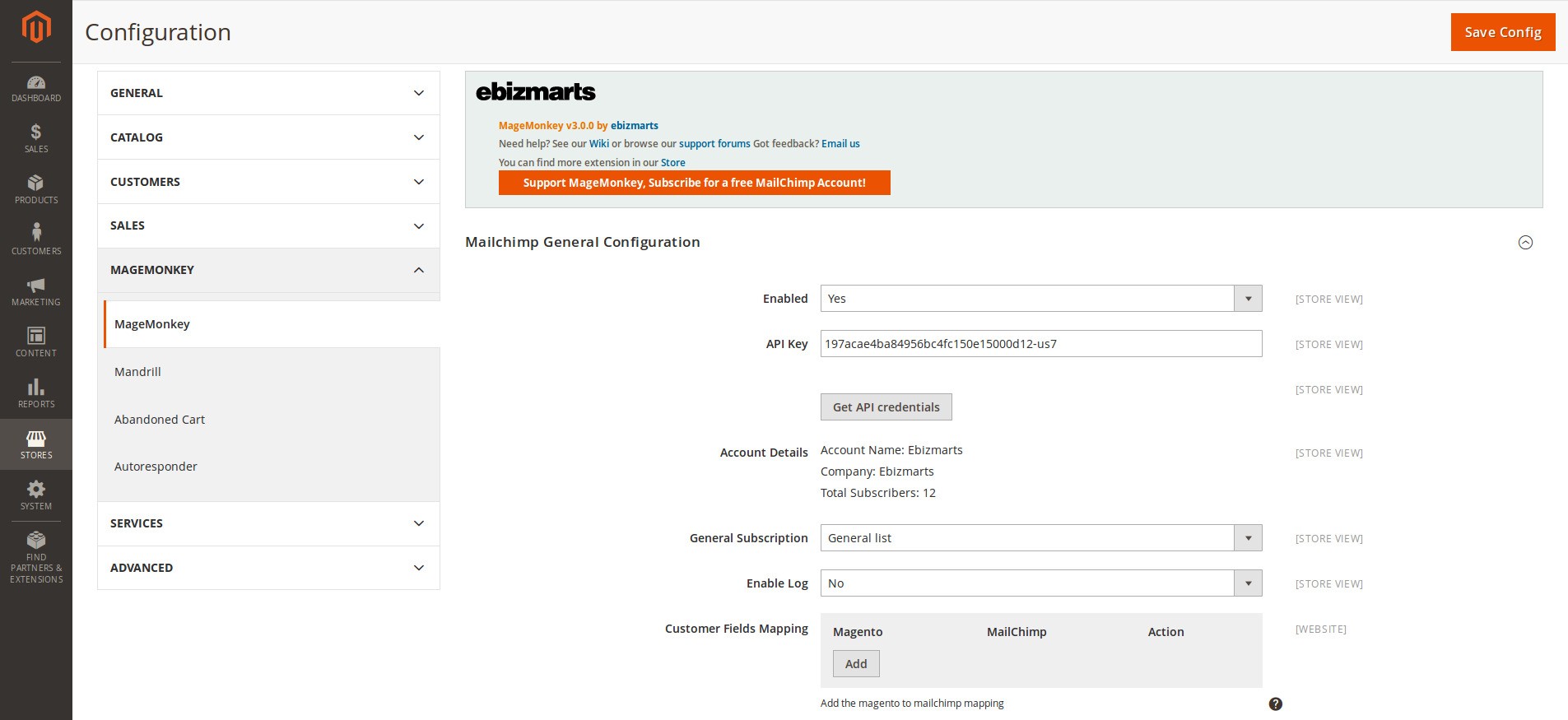 Magento CE v1.4.2.0 Magento 2 CE

Magento EE v1.9 Magento 2 EE
Support:
Free self support
$320 per 4 hours/ $580 per 8 hours
Listrak Retail Solutions
Email marketing is one of digital marketing directions of Listark platform. Listrak extension can empower email marketing for Magento store. This convenient widget system offers wide range of different useful solutions but in email marketing aspect you have to pay attention to:
Paid Magento ecommerce email marketing extensions
Dotmailer
Dotmailer is Magento's first and only Platinum Technology Partner for email and multichannel marketing. It's one of the most feature-rich email marketing tools for Magento with user-friendly interface.
Purchasing all 3 modules (Follow Up Email, Market Segmentation Suite, Advanced Newsletter) you can save up to $160 and upgrade your web store with great email marketing functionality.
Follow Up Email by AheadWorks
With this module you can follow up your customers via automated emails that attract their attention or remind about abandoned purchase and return them to your store.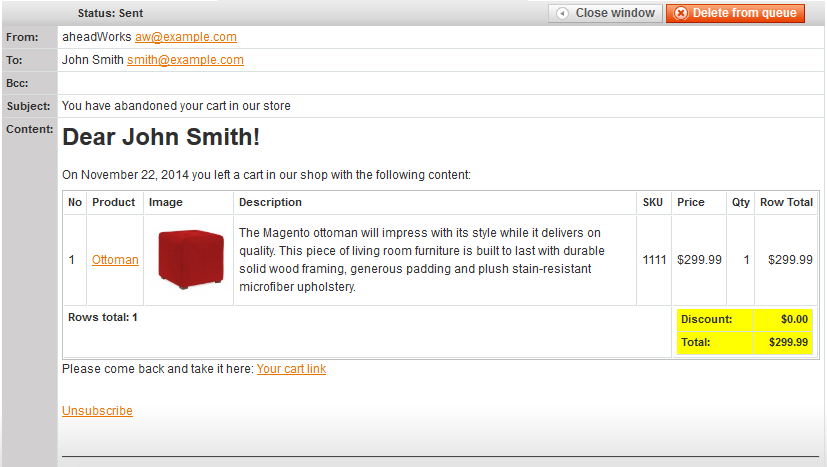 This extension allows customizing different rules of email triggering:
** Customer birthday ** Customer submitted a review ** Abandoned cart ** Customer newsletter subscription ** Customer placed a new order ** Customer added product to wishlist

It's easy to create relevant proposals for the audience with segmentation function.

According to your business requirements you can set up special rules for defined customer group, certain SKUs or sales amounts.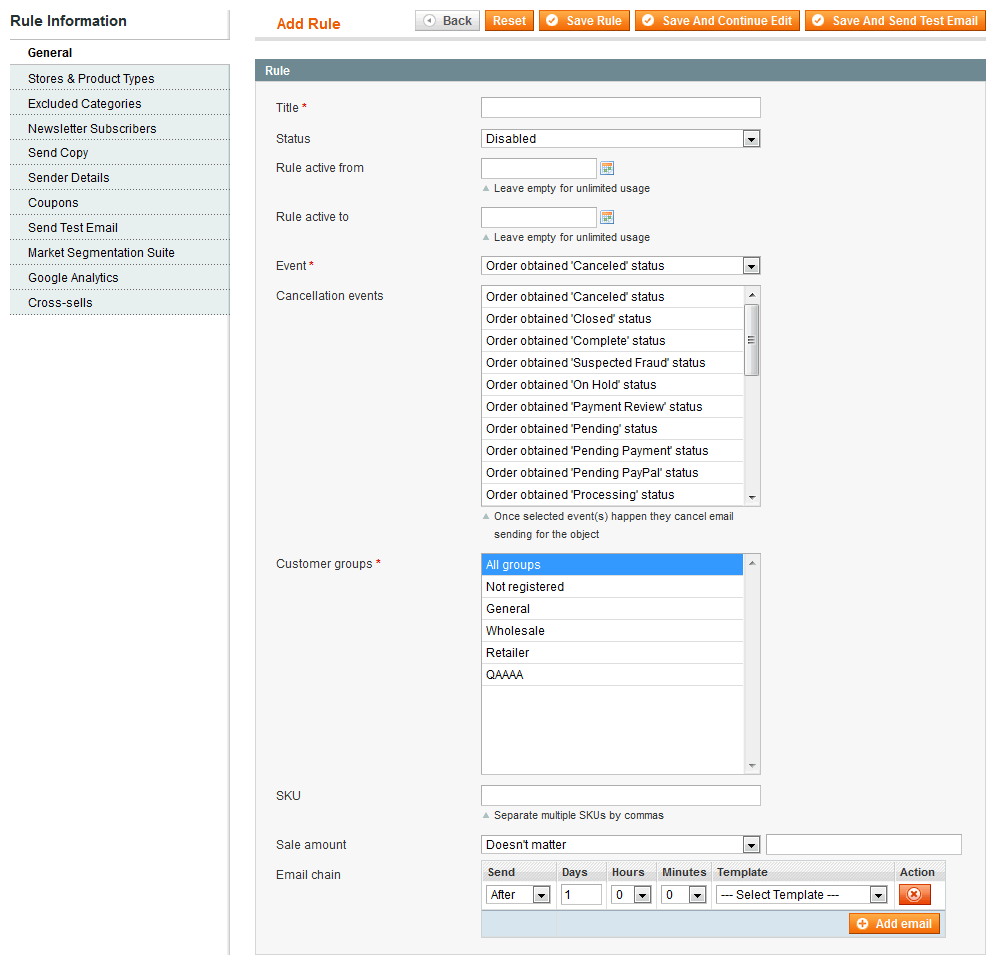 Multi-step email marketing rules can be applied when setting email chains and determining the email sequence in order to reach your goals faster.
You can suggest related items, cross-sell, related or upsell from web store and insert them in special emails for target audience. It enables you to make right offers to your customers. This approach is doomed for success as such emails activate customer needs.

The ability to track results provides purchase behavior overview. For example, you can add discount code to your email and track those coupons which have been applied.
Also, you can analyze statistics of links with abandoned cart recovery via integration of Google Analytics tracking code.
Tracking all your email campaigns you can direct your marketing efforts into the right stream.
** Magento CE v1.4.x Magento CE 2 ** Price from $199 ** Free support and updates for 3 months
** Magento EE v1.8 Magento EE 2 ** Price from $1.189 ** Free support and updates for 6 months
Market Segmentation Suite by AheadWorks
Segments customers and their orders. You can apply any rule for separate customers and orders groups
Moves segments to Magento customer groups and use these customer groups as you see any applicable fit
Allows using segments within other extensions. Module is compatible with a variety of other aheadWorks marketing extensions
Segmented lists can be easily exported into the CSV/XML

Speeds up your work with re-index the rules

Magento CE v1.4.x v1.9.x
Price from $199

Free support and updates for 3 months

Magento EE v1.8 v1.9.x
Price from $1.189
Free support and updates for 6 months
Advanced Newsletter by AheadWorks
Multi-store implementation provides flexible extension configuration for each store individually
Personalization of messages by means of adding name fields for guests. It emails your content more responsible and helps to avoid spam filters
Attractive in-block or AJAX layer based subscription form, eye-catching subscription button and auto-subscription options increase newsletter sign-ups
Ability to deliver content to a highly targeted audience
Custom newsletter templates
Two-way MailChimp synchronization with Magento – automatic on-the-fly or manual
Manage subscribers from admin panel
Subscription button at Checkout page
Sending emails from any SMTP server

HTTPS in customer account gives more security to your customers

Magento CE v1.4.x v1.9.x
Price from $139

Free support and updates for 3 months

Magento EE v1.8 v1.9.x
Price from $779
Free support and updates for 6 months
If you want to use up-to-date email marketing strategies and exploit the potential of well-planned email campaigns to the fullest, take a look at the Email Marketing extensions by Amasty. The modules offer a rich list of features, developed to enhance native Magento functionality and help you to build fruitful relationships with your customers. Only for Eltrino Blog readers - fill out the contact us form with the Subject: "Amasty Email Marketing extensions" and get 10% discount for Amasty email marketing modules.
The module allows generating and sending triggered emails of various types. You can provide customers with tempting offers based on their:
Wishlist data
Previous orders
The date of birthday
The date of last purchase etc
This extension allows sending discount coupons, birthday greetings, review reminders and multiple notifications based on customer activities like email subscription or customer group change.
It's possible to create Flexible rules based on product SKU, cart subtotal, number of orders, customer group and other aspects and customize email templates according to your needs.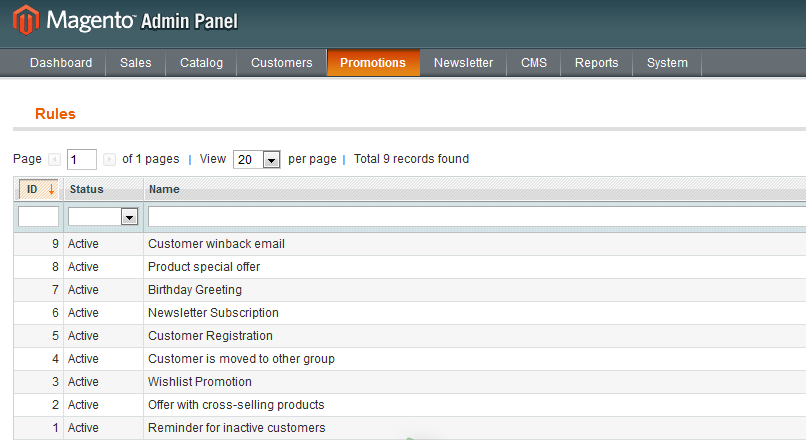 Apart from that, together with the follow-up tool admin users get the opportunity to track email statistics and thoroughly segment customers for highly targeted email campaigns.
Advanced options:
Automatic scheduled letter dispatch
Automatic generation of discount coupons

Possibility to create a black list
Possibility to preview and send test emails
Monitor the frequency of email delivery with email log
Get statistics via Google Analytics
Customer Segmentation:
You also get the possibility to accurately segment registered customers according to different criteria like: email, gender, the number of days from the last visit etc. A variety of complex rules with condition combinations can be created to segment your clients.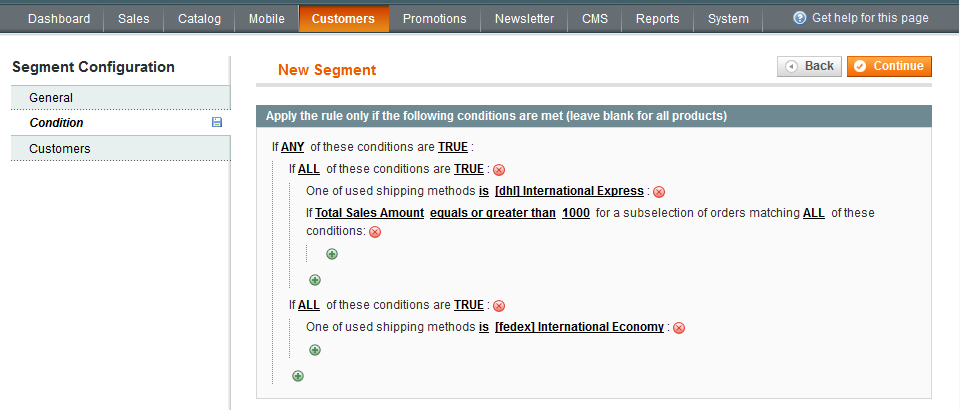 When the rule is applied you get the list with customers (their emails and names) meeting your rule conditions. Voilà! Now you can use the list for your email campaigns.

Price $99
Free support and updates for 4 months
Magento CE v1.4.x Magento CE 1.9.x
Magento EE v1.8 Magento EE 1.14.x
The module allows sending mass cart reminders to motivate customers to return to your store and recover abandoned carts. You can easily customize email templates and attach discount coupons to win back clients and increase conversions.
To adjust emails dispatch to your specific needs you can create an unlimited number of flexible rules. Specify the number of emails that should be sent for each rule depending on the products in the cart. Thus, you can send 2 emails for cheap products and 4 or 5 emails for pricy items.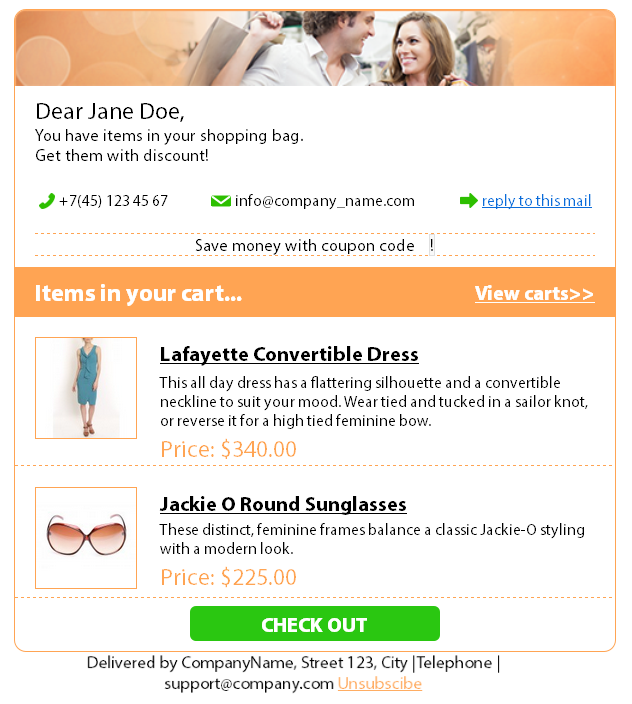 Advanced options:
Possibility to schedule emails dispatch
Customizable email templates
Possibility to send test emails
Automatically add coupons to emails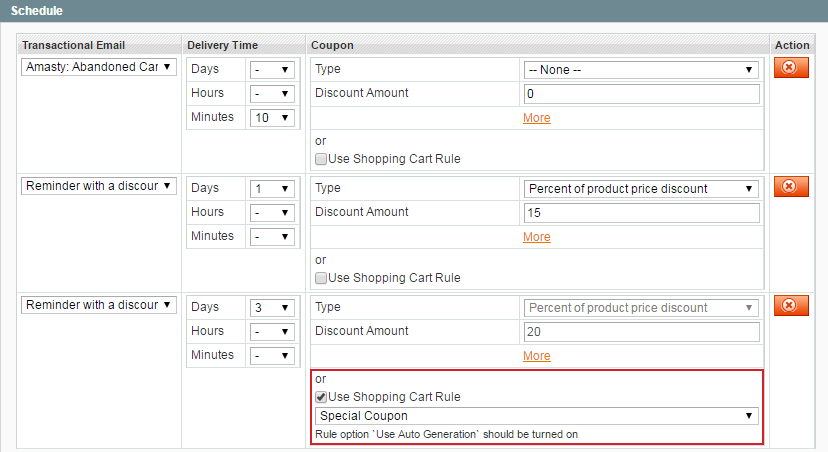 Track the number of recovered carts in a current month
Statistics via Google Analytics
Possibility to create and import a blacklist
Capture emails of guest visitors with AJAX
Possibility to analyze campaigns with informative history grid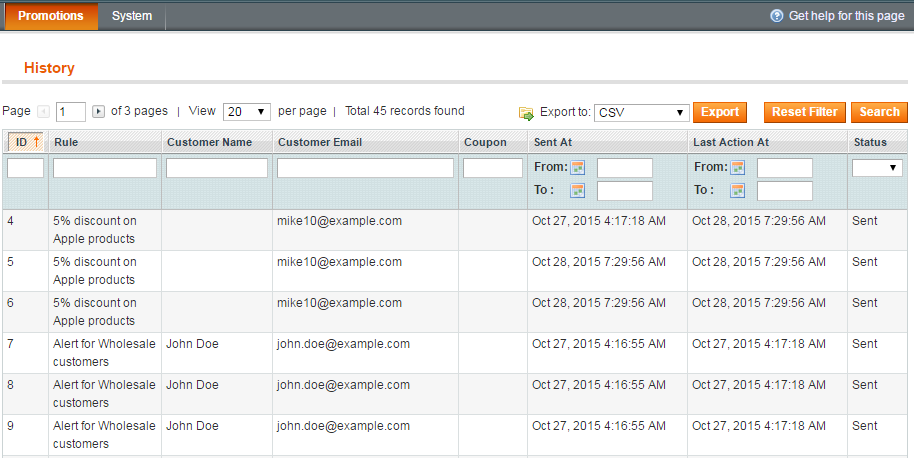 Price from $89
Free support and updates for 4 months
Magento CE v1.4.x Magento CE 2
Magento EE v1.8 Magento EE 2
###Smart Review Reminder by Amasty###
The module enables admin users to send targeted emails with special offers to motivate customers to share their experience in product reviews. By enriching your pages with customer feedback you'll make your store much more reliable for your potential clients and increase your sales. Due to flexible conditions based on store view, order status, customer group, order subtotal and product category you can send multiple emails tailored to any specific requirements.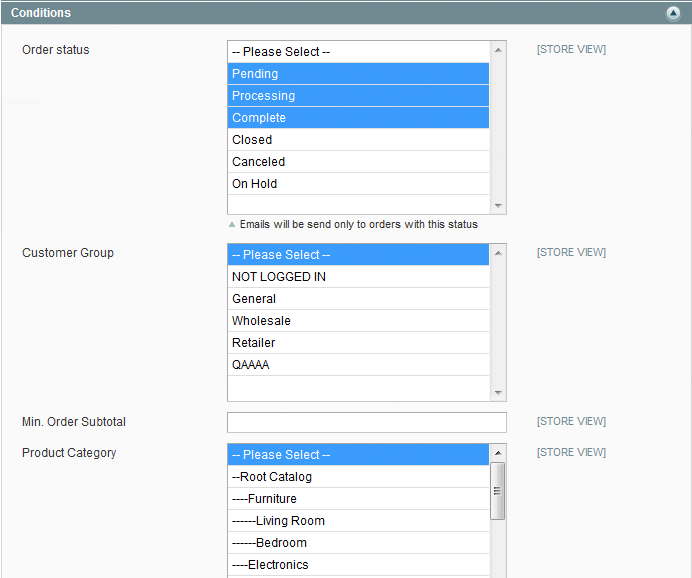 The Smart Review Reminder options:
Possibility to send reminders in automatic or manual mode
Schedule emails dispatch
Customize emails frequency
Automatically insert coupons into emails
Possibility to activate email coupons after review approval
Track customer clicks on email links in Google Analytics
Add auto login link to email templates
Test email sending

Black list creation

Price from $89
Free support and updates for 4 months
Magento CE v1.4.x Magento CE 1.9.x
Magento EE v1.8 Magento EE 1.14.x
Follow Up Email by Mirasvit
This email marketing tool provides autoresponders emails in different cases:
Abandoned cart
Customer isn't logged in for a predefined amount of days
Customer review request
Post-purchase cross-sell activity
You can create unlimited number of email chains for each trigger.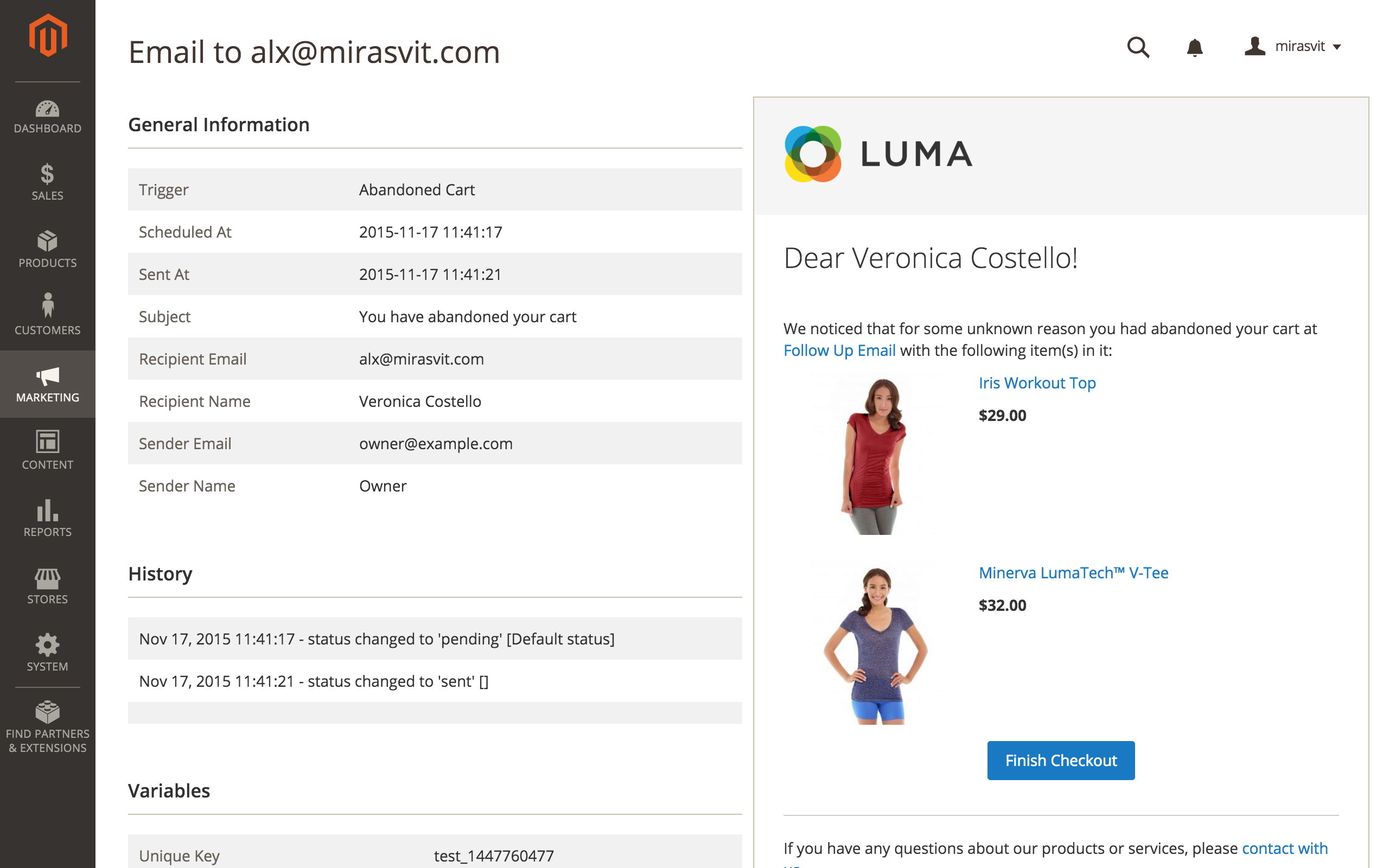 You can pick any event to launch trigger email among 20+ ready solutions. With Follow Up Email you can:
Advanced Newsletter by Mirasvit
Advanced Newsletter provides an opportunity to insert the subscription form, as CMS block, at any page of the store
Subscribers can choose categories they are interested in
Subscribers segmentation (customer groups can be created in a flexible way)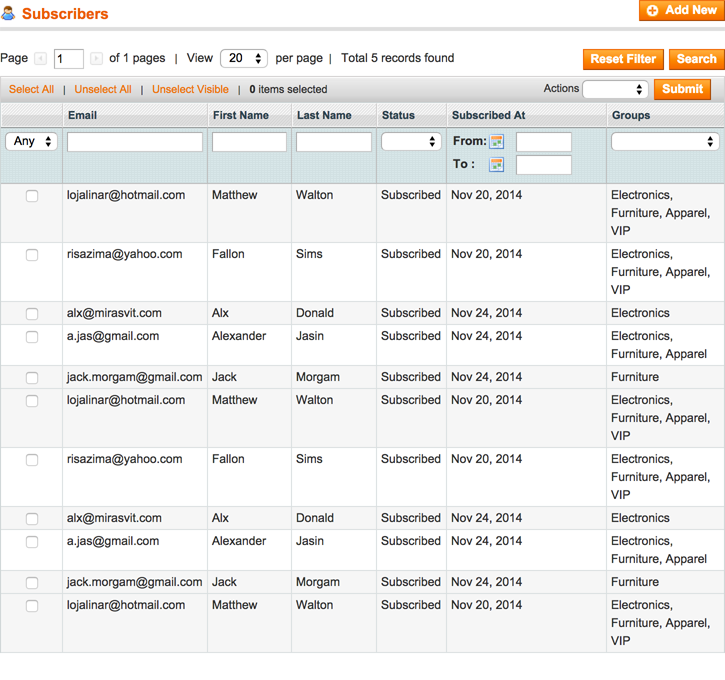 Segments or groups for subscribers can be dynamically changed based on certain rules (purchased products, groups of users, amount of orders etc.)
You can import subscribers from default Magento subscription list or add users to the groups manually
Eye-catchy custom newsletter templates. You can design global letter templates and unique templates for every email
Easy templates editing through a convenient admin panel interface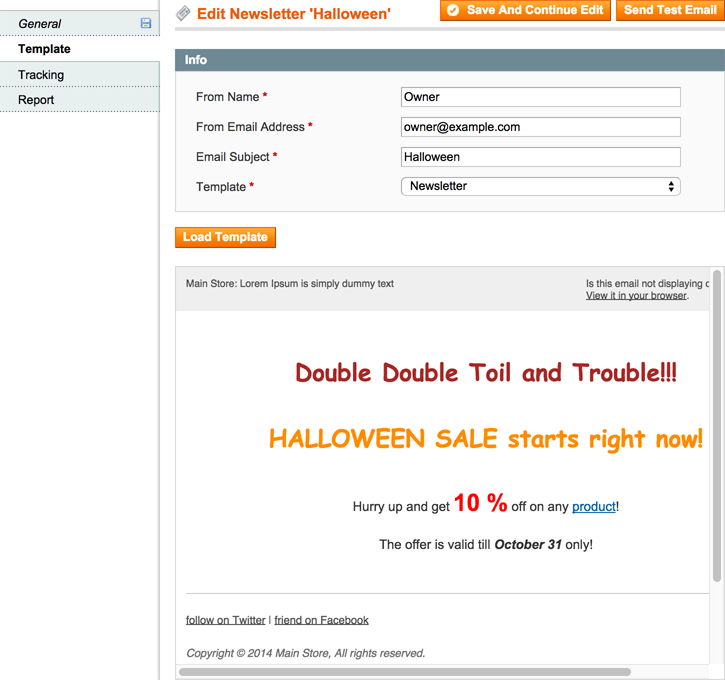 Statistics and reporting features (connecting to Google Analytics, a built-in statistics program which provides information about number of opened emails, website visits, orders, etc.)
Complete integration with MailChimp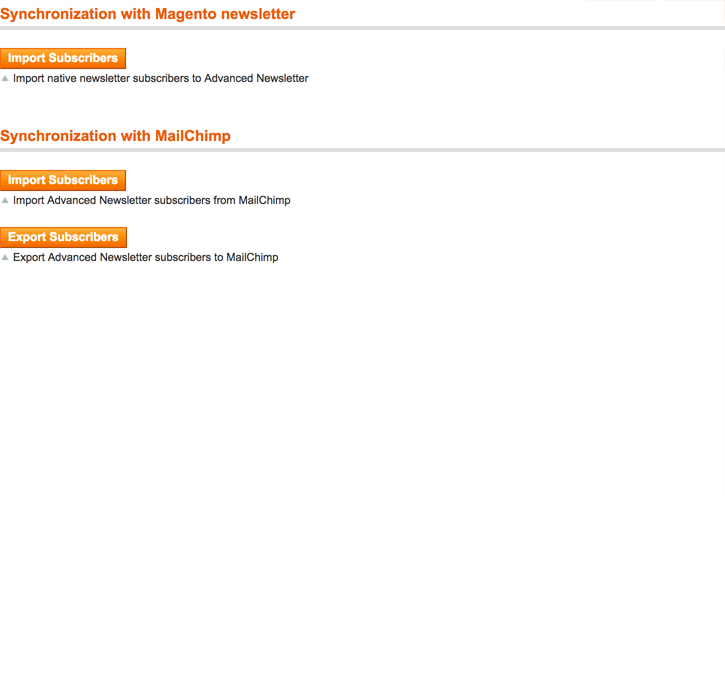 Mailing can be done using any quality SMTP server
The choice of the best Magento email marketing extension for your web store depends on your business needs and compatibility abilities of your existent extensions. As a rule, synergic effect appears when combining modules developed by one provider.