1 Goodbye Black Friday and Cyber Monday. Hello golden November
Over the course of recent years customer behavior has been changing dramatically, shoppers no longer wait for the Black Friday and Cyber Monday to rush to the shopping spree to malls and online stores, they started to grasp some marketing tricks and avoid theses holiday shopping hooks. Consumers start major preparations for the holidays season in November, as for the several past years they've been receiving discounts and promotions much earlier than they used to. So, while planning seasonal strategy next year, take into account that harvesting starts in the beginning of November.
2 Goodbye branded mobile apps, your time has gone. Hello Chatbots
Interaction between humans and computers is transforming from an "operational" (Websites, apps) to a "conversational" type (ChatBots, voice interfaces). Now artificial intelligence and natural language processing technologies achieved 90%+ to the accuracy parsing of pronounced or typed content.
As it's common for iPhone users to ask Siri about the weather or anything they need to know, it will soon be common to expect such direct answer for example from Google, or from webstore bot when you need to figure out whether your size of this coat is in stock.
People stopped downloading brands' and stores' apps, but merchants, entrepreneurs and marketers are still struggling to get closer to their clients and customers. How to engage them now? Fortunately, there is an alternative way - through messaging apps and certainly not without help of chatbots. 2017 is the year off mass adoption of chatbots and it will turn around the whole app business, so if you were planning to create a classic brand app that will send spam push notifications about your store promoы, it's better forget about it right now, coz it's time and money wasting. But it doesn't mean that people will reject all other apps except Facebook or Kik on their phones. We'll talk about mobile apps that will attract customers attention in 2017 later but now let's come back to chatbots fad.
Chatbots in messengers help to provide quick support to your customers. For example, your company receives 300 messages from customers about their shipments through Facebook daily, so you have to employ 1-2 support managers who will respond only for these messages or use chatbots that will immediately respond to such typical questions like shipments. Chatbots are a fancy and inexpensive way to handle automated messages, so there is no doubt that very soon chatbots will become as common as automated phone systems.
Chatbot ecosystem is already robust. Chatbots are well-suited for mobile and there are a lot of ready-to-use third-party,
What are the biggest players in Mobile Chat?
What companies have already adopted this bot fad in their business models?
Today around 80 big brands, such as MTV, SkullCandy and the Washington Post, hold stilted conversations through bots on Kik.
Consumer goods companies are attracted to bots because of "the relationship aspect, not just sales." If they can create a memorable, interactive experience with their brand instead of just one-way marketing, customers will keep coming back.
The beauty brand Sephora has a chatbot on Kik that prompts users to tell more about themselves and then recommends personalized beauty tips and products that may suit their customer best. People can order recommended goods right from the Kik.
Now you can easily order an Uber car directly via Facebook Messenger, you don't even need to switch on Uber app, just type necessary address, request a ride and voi la - bot has texted you ETA of your driver.
Uber Chatbot
H&M and Victoria's Secret also have bots on Kik that examine users' style preferences through easy conversion and published photos, and then provides recommends as per appropriate outfits.
The Tommy Hilfiger fashion brand promotes its fashion line with the help of social media star Gigi Hadid and Messenger bot that knows everything about the collection, it can show all content from the runway show and some backstage but the most valuable for eCommerce, social users can directly order stuff from the collection directly through this chat with bot.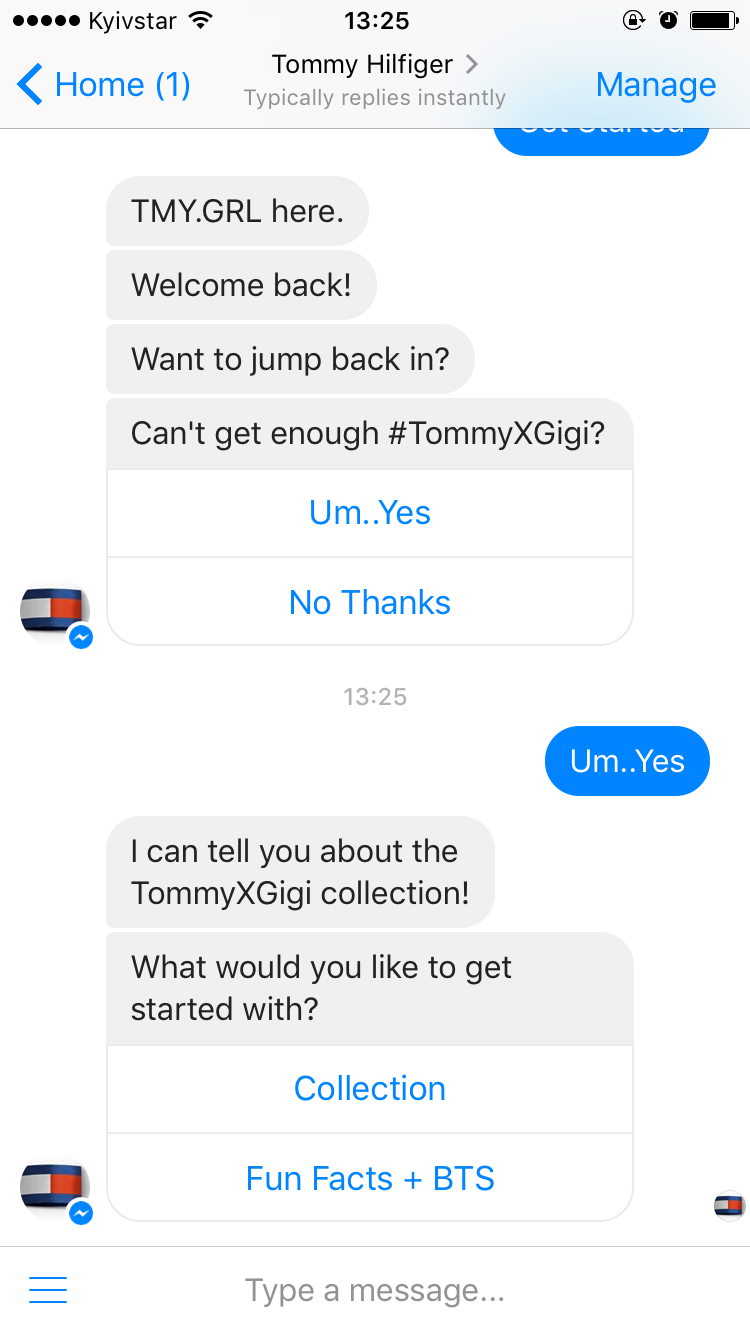 M-commerce start-up Spring was one of pioneers in implementing Facebook Messenger bot in their business. This "personal shopping assistant" powered by Facebook's new send/receive API works the same way as previous bots on apparel market based on a series of multiple-choice questions. Hyatt involves Messenger bots in customer care process to engage with guests on their terms though their preferable channel. 24/7 customer can receive recommendations or answers for all their questions.
Taco Bell, Burger King and Pizza Hut allow customers to order food requesting a bot in Slack, Facebook Messenger or Twitter.
But bots can provide conversation commerce directly through your eCommerce store. If you run web store on Magento, artificial intelligence chatbot "Chloe" (sort of Siri for e-business) can automate written and call responses. Chole is available on Magento Marketplace https://marketplace.magento.com/sundownai-chloe.html
Automated conversations with customers allow sending quick replies abd automated payments allows to pay directly from messenger (it's feature is in Beta version on Facebook Messenger).
3 eCommerce data aggregators
92% of consumers now read online reviews vs. 88% in 2014 and 88% of online shoppers incorporate reviews into their purchase decision. But from other hand folks struggling to find all necessary information in one source. That's why product information aggregators become trendy. But to operate with such great massives of data it should be delivered in standardized formats.
For example, Etilize operates with 2M products available in 20 different languages and 30 countries.
Or another example: TrueFit.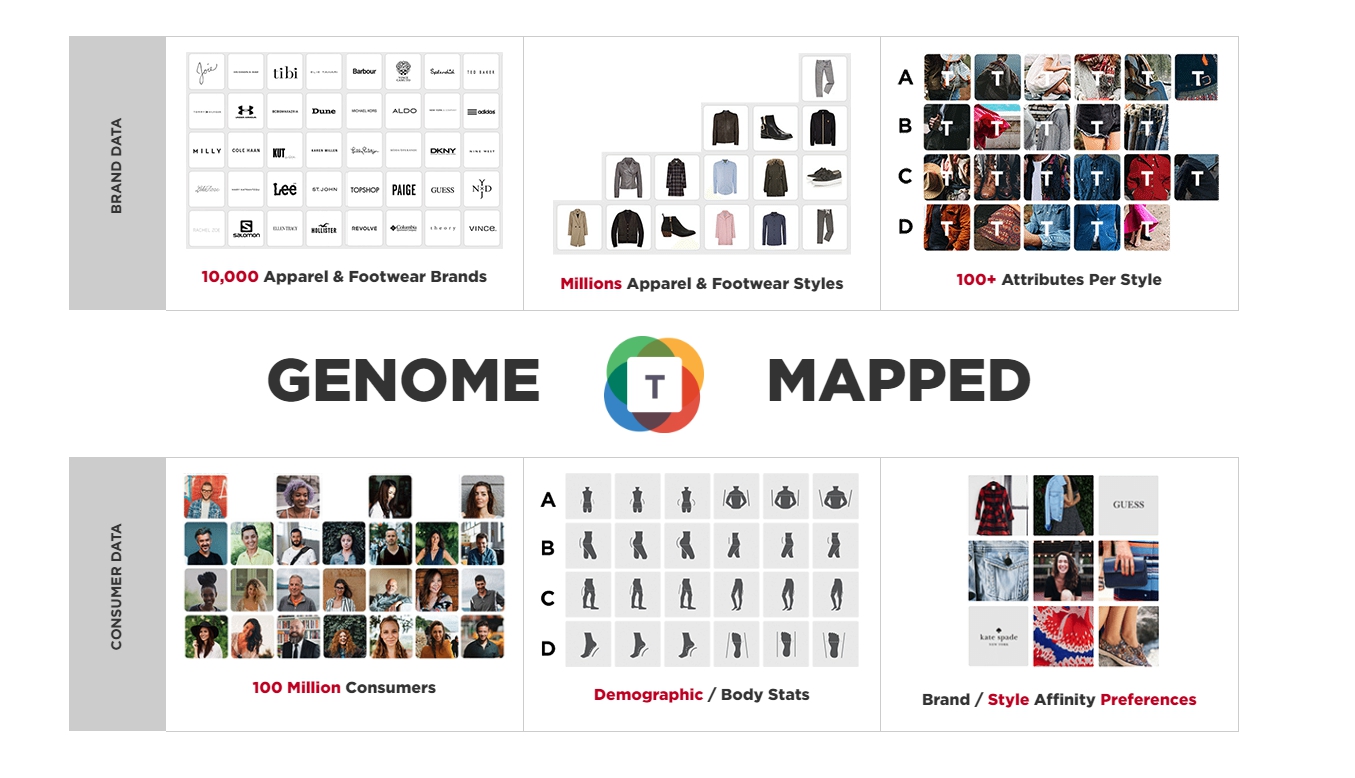 Apparel and footwear market makes trillions dollars and billions customers all around the world. But 90% use online store only as a source of product information, only if they liked it, they will come and try it on in the dressing room. It was a great confidence gap between consumers and goods on e-stores. For apparel and footwear fit is the biggest challenge. Different brands create different products in different sizes so it's a big challenge for customers to order goods that will really fit and suit them, as items end up being perfect for some people and not the best choice for others. That's why this category has such high return rates (dresses 55%, tops 36%, bottoms 43%, suits 40%, shoes 20%). It all costs for web stores but this free returning is industry standard. But now imagine the tool that can ask you some questions, learn you purchase history and will recommend you stuff that will actually fit you. This could be a win-win situation both for shoppers and sellers. TrueFit Genome Platforms solutions helps to aggregate, normalize and map footwear and apparel data. Due to deep personalization it helps to decrease the number of returned products.
4 Dynamic Mobile apps
Mobile apps that interact with potential customer, for example, help to try on makeup, footwear, apparel online. Thanks to facial tracking technologies like Looksery (it's not only app it's technology that run on snapchat and on numerous other projects). Great example of such mobile app that provides ultra-personalized user experience is Makeup Genius by L'Oréal Paris. It scans user face and hair and allows to try on different looks in real time. Still don't know how you'll be look with red hair or what trendy tone of lipstick works the best for you? Try it on right there where you are!