As was announced earlier, Adobe is acquiring Magento for $1.68B. This acquisition will change the eCommerce world. To stay abreast of the synergistic union of the undisputed leaders in designing and delivering great customer experiences and the world's #1 commerce platform for brands across B2C and B2B, Eltrino became Adobe's solution partner. Last week we attended the Solution Partner webinar, "Experience Driven Commerce for Magento", that made it clear what to expect from this collaboration, what problems the collaboration solves, how the problems are solved, and the power of the combined solution.
So, we decided to share some inside information with you. Shhh, it's a secret;)
##What problems does the combination of Adobe and Magento solve?##
People buy experiences and experiences have become a new differentiator. In our new world, where there is nothing absolutely innovative, and where nothing unique is saved from copycats, it becomes absolutely crucial to create a differentiated customer experience; but what does this mean for commerce? A commercial experience should be easy, efficient, intuitive, time-saving, and personalized. The new generation of commerce should be seamlessly integrated across the entire customer experience.
73% of customers use multiple-channels of commerce, and they expect a unified experience, but 78% of brands admitted that they don't provide a unified end-to-end experience.
Here is the problem. All current solutions in the market do not support the end-to-end business process from Advertising to Post-Purchase, they lack flexibility and can support only a few commerce scenarios.
##How the combination of Adobe and Magento solves existing eCommerce problems (the power of the combined solution)##
Businesses are in need of agile and integrated platforms to provide, manage, personalize, and optimize the end-to-end customer experience, and it's a touch point where Magento (now part of Adobe Experience Cloud) and Adobe can bring together digital commerce, order management, and predictive intelligence into a unified experience platform. Its aim is to provide the entire journey, integrating both B2B and B2C experiences — from content creation and analytics to marketing and commerce.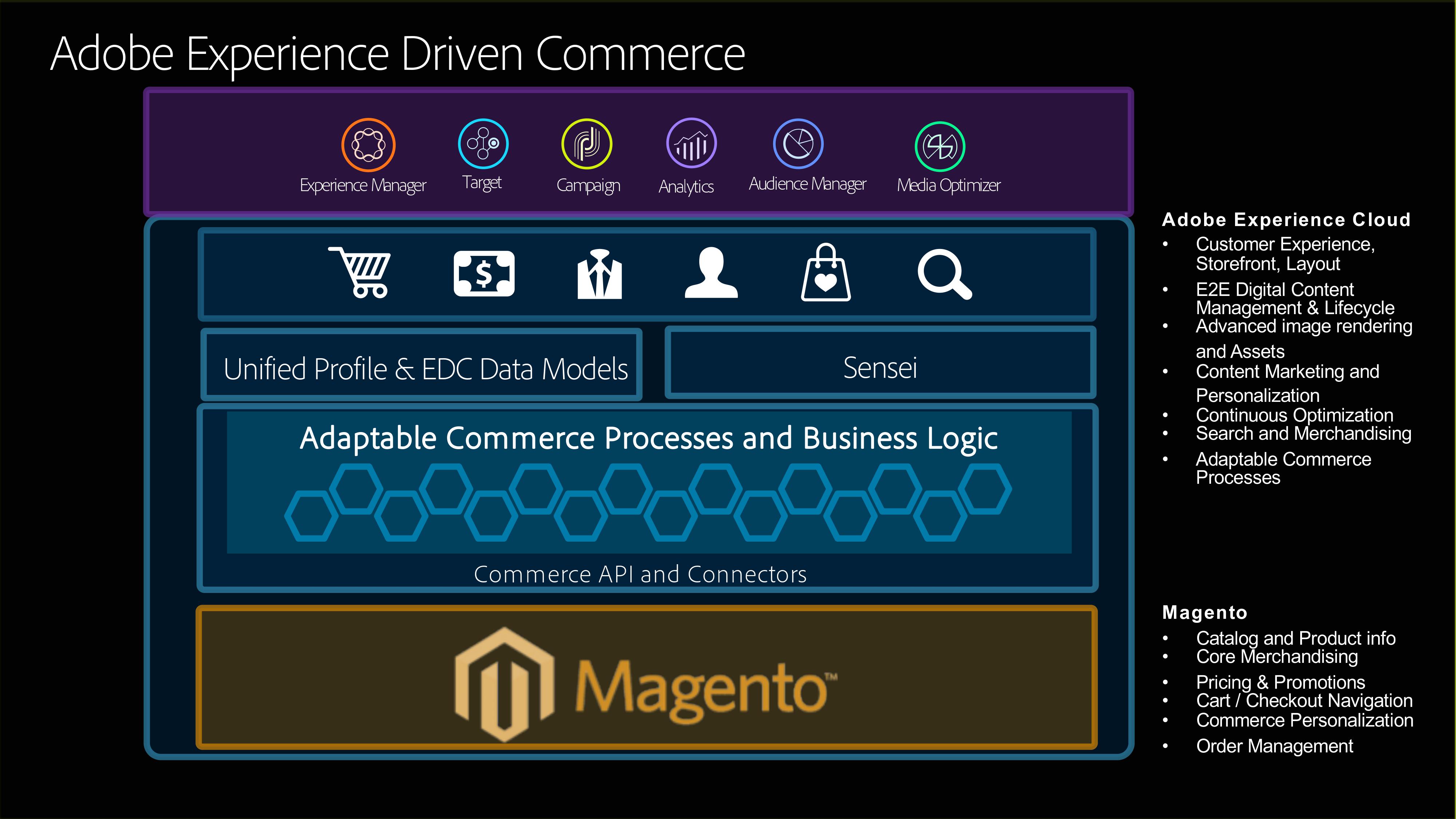 Source: Adobe and Magento Partner Enablement Session Presentation###
Adobe and Magento are redefining experience and commerce:
Deliver superior experiences across every touch point and channel
Personalize interactions and optimize business outcomes using deep insights and Adobe Sensei
Cost effectively capture and execute the perfect order across every channel
Business Model support for B2C, B2B, and Hybrid stores on one platform
Industry leading Time to Market and Total Cost of Ownership/ROI
Empowers merchants to provide unique digital experiences and exceed
Customer expectations with powerful, flexible, and modern commerce tools
Order Management Enables World-Class Omnichannel Experiences, bridge the gap between online and offline ( like Buy Online Pickup in Store, Ship From & To Store, Single system of record of orders, inventory and fulfillment to enable efficient multi-brand, multi-geo expansion)
Increase product sales & inventory utilization through omnichannel order fulfillment
Built-in analytics tools (Adobe Analytics) for continuously measuring and analyzing every interaction
Magento is already integrated with Adobe Experience Manager. At this moment it has 2 options:
Direct integration between Adobe Experience Manager and Magento for On-Premise clients (Commerce Integration Framework)
Cloud version of the integration will be available in Magento Cloud Edition. All integrations, customizations, and extensions were moved into Adobe Platform as a service (I/O Runtime), entire integrations were rewritten as microservices.
Companies that have already adopted Magento and Adobe solutions in their businesses
There are thousands of businesses that are utilizing Magento and Adobe solutions. For instance, they use Magento for their eCommerce store, Adobe Audience Manager to track visitors, and so on.
LD Products has the store on Magento and uses Adobe to drive awareness and improve site acquisition.
Commerce integration framework in Orgain helps customers discover the right product for their personal objectives. Depends on user intent, to lose weight or to * become healthier it offers an appropriate solution and recommendations.
SK Tools helps customers find the right tool for the job.
Harbor Freight optimizes experiences and conversion.
Abbott Labs provides step-by-step tutorials, helping patients use the product and solve problems.
Summary
As Magento this new solution is built for growth. Due to its scalable technology architecture, it supports more than 100 businesses which generate more than $100,000M a year and 5 clients who make over $1B a year. It delivers unique shopping experiences for customers and handy features for merchants. Together, AEM & Magento deliver the best in class omnichannel commerce experiences for creatives, merchants, and marketers. Candidly, this new solution should be put to the test. And we all will have such an opportunity with the Magento 2.3 release that will be launched at the end of 2018.