The main secret of Magento platform success is in its powerful community. Every Magento event proves this. So many bright minds are connected around Magento platform. Meet Magento DE took place for the 10th time in Germany. On July 04 & 05 this prominent eCommerce event was hosted in Leipzig. Magento Association chooses the best locations for its events, so this time it was Pentahotel. Organizers took care about more than 600 attendees, 50 speakers and 35 sponsors and provided them favorable atmosphere for work, education and rest.
Official part of the event started from Dr. Thomas Feist talk about the importance of digitalization. Than Thomas Goletz reminded about the collaboration between Magento and Meet Magento. Actually it was announced earlier at MagentoLive UK. Also, Meet Magento World conference was highlighted. You can join this online event anywhere in the world, avoid travel and time costs.
It will take place December 6-8th, 2016, right in your own home or office, depends on your preferences))) It's good chance to see the best speakers from 25 countries right from your coach, without travel exchanges.
Then attendees spread over three conference rooms: Developers, Conference and Business Rooms. Dennis Chen, Managing Director & President at Hongkong THTF CO., Ltd had a talk about cross border eCommerce opportunities in China. Advised how to sell European products in China in the best way.
Anna Sawicka, CEO and co-founder at Kiwee continued global selling theme. Told who, why and how should to start cross border trade. She shared with audience her own experience in building international stores with Magento.
Then we moved to developers room to hear how to develop a payment module for Magento 2 by Rik ter Beek, the lead extension development specialist at Adyen. Rik's team has built a brand new payment module from the ground-up. He share their experiences in:
Dynamically creating payment methods.
Benefiting from composer and PSR and comparing new ways of talking to external libraries in Magento 2 – compared to earlier versions.
The benefits and challenges of omnichannel payments.
After this Eltrino's CEO extended Composer topic with a talk about how to Make implementation of third-party elements in Magento 2 in 5-times easier. Highlighted typical issues in Magento 2 that can be solved by Composer. Demonstrated on the example of adding Google Recaptcha to the contact us page how to implement third-party libraries and how to create a new module in Magento 2. Backend validation comparison shown that with Composer you can easily save 10 hours of development on the implementation.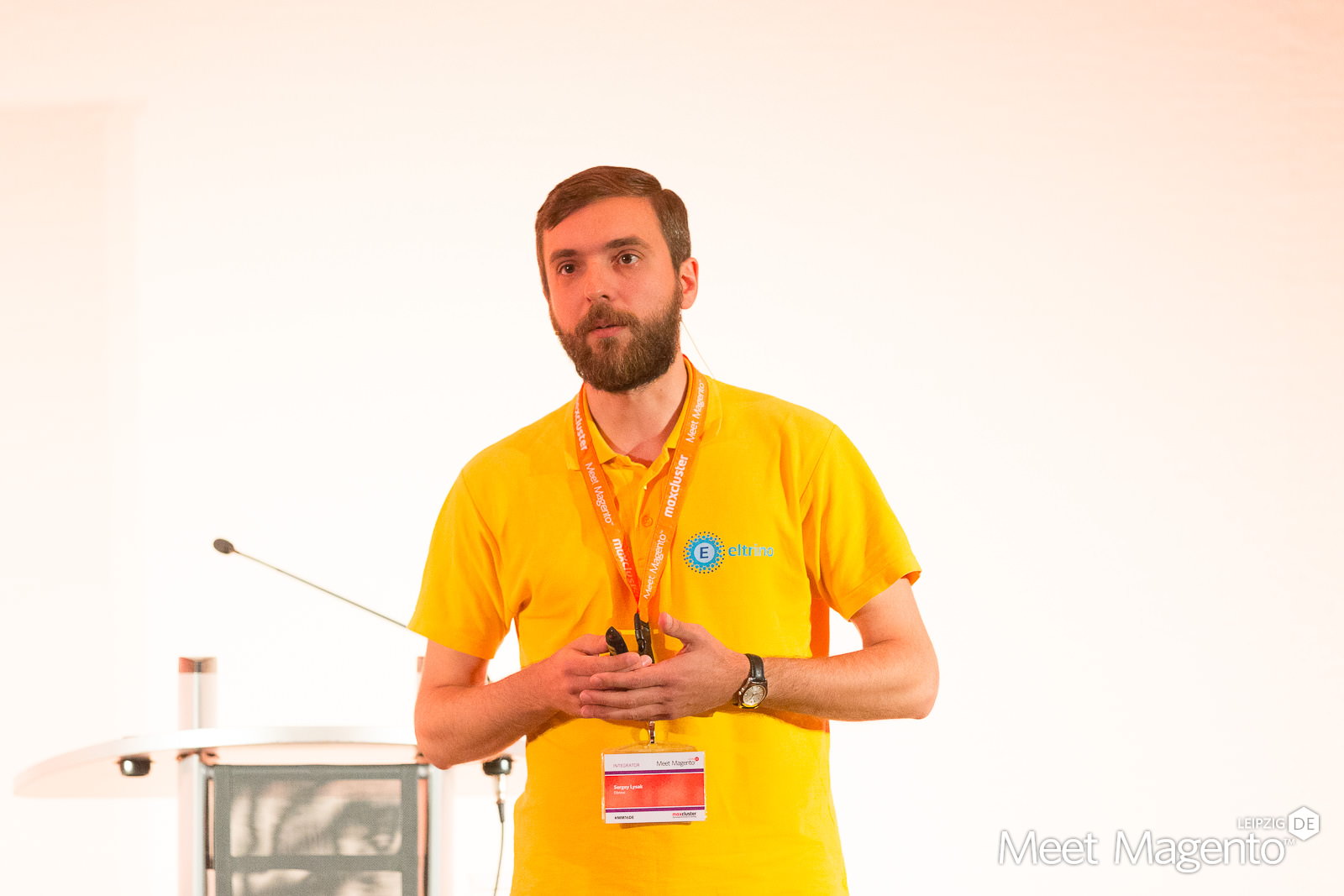 About growing up with Magento, how leveraging Magento 2 improves extensions was presentation of Kristof Ringleff, the director of Fooman. He highlighted the top opportunities and low hanging fruit for extension developers to raise their own Magento 2 development standards.
There was much talk about Magento Performance. So Slavey Karadzhov from Zend Technologies discussed speed in development with help of Z-Ray tool.
At B2B Case Studies Panel Piotr Karwatka from Divante moderated Magento implementation of B2B platform case study - The complete transformation from offline to online.
Fuckup Nights@MM16DE is great idea. It's easy to glory your success but to tell about your failures you need to be brave and honest. That's really nice that people open their fuckups it's a good chance for community to avoid similar mistakes in future projects. It was really funny story from Netresearch about their Fuck up - best App Store for Magento. It had to be iTunes for Magento but something had gone wrong :)
After fun at Fuckup Nights we came to the business room to watch the presentation of our ex-Eltrino member Alex Gotgelf, now he is a web development consultant at Netresearch. He had a talk about Ecommerce integrations of Magento 1/2 & Akeneo PIM.
Next was Moritzbastei. What happens in Moritzbastei, stays in Moritzbastei. Meet Magento after-parties are legen…dary.
The second conference day got started with Opening Keynote, Ben Marks - Magento Inc. an eBay Company. He told about innovation in release cycle for Magento 2, now it has been changed from "quarterly" to "regularly".
Then was Magento 2 development tips from Max Yekaterynenko, Magento, an eBay Inc. company.
Meanwhile, Ivan Chepurnyi at the workshop demonstrated Magento Indexation Technique: Data Processing in Parallel.
Also, there was a nice case-study talk about hacked shops from Niels Pahlmann who shared the tips about Magento Security.
Actually there were three talks about security in eCommerce. Magento community shares the latest news to increase awareness about potential risks.
Meet Magento Awards met Type Hype, Gigaset and Fischer Sports.